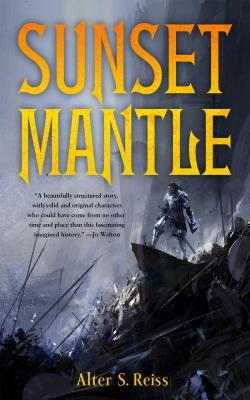 Sunset Mantle by Alter S. Reiss. ★★★1/2
Sunset Mantle is a solid work of high fantasy. What's most fascinating about it is that for all it's battles and political intrigue, it's less than 200 pages long. That's right ya'll. This is a high fantasy novella.
Cete is a wandering solider for hire. He knows that Reach Antach is about to be on the losing side of a war and that the smart thing to do would be to move on… but somehow, he just can't bring himself to do so. When he sees a beautifully embroidered mantle made by a blind craftswoman, he becomes inspired to stay and to risk everything for the town of Reach Antach.