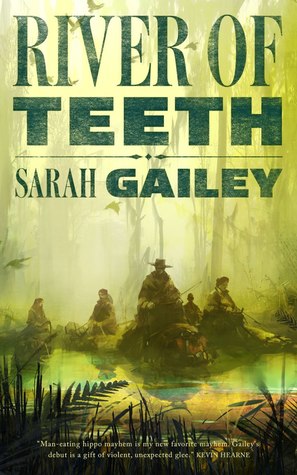 River of Teeth by Sarah Gaiely. ★★★★
River of Teeth is more awesomeness than I thought could ever be packed into one novella. This little book is sheer fun!
I've been wanting to read this novella ever since I saw Sarah Gailey's tweets about the history behind it. Basically, in 1909, America was facing two problems: a meat shortage and invasive plants in the Mississippi. Well, one U.S. congressman had a bright idea. We could import hippos to live in the Mississippi. They'd eat the invasive plants and provide a source of meat. Brilliant, right? The rest of Congress certainly thought so. The motion failed by only one vote. Presumably because someone finally pointed out that hippos are the most dangerous African mega-fauna. But if the vote had gone another way, what would America have been like? River of Teeth is a story of the American Hippo, although set earlier than the real world history that inspired it.