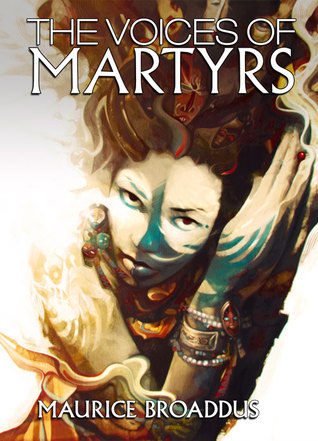 The Voices of Martyrs by Maurice Broaddus. ★★★1/2
In these stories, Maurice Broaddus speaks with the voices of martyrs – past, present, and future. The anthology is divided accordingly into these sections. All or almost all of these stories involve some fantasy or science fiction element. Personally, I found I liked the future stories the best.
The collection begins with "Warrior of the Sunrise Rite of Passage," the tale of a woman warrior in a long ago Africa, battling strange and ferocious monsters. From there, the collection moves to areas of the past that are more easily pinpointed in history books. "Rite of Passage" tells of the Atlantic Slave Trade.  In "Ah Been Buked," a young woman survives slavery in the American South. "A Solider's Story" is narrated by a vampire who witnesses the unspeakable destruction of a town's black community. And in "Shadow Boxing" an up and coming boxer fights against segregation. I'm not one hundred percent sure if "Rite of Passage" and "Shadow Boxing" had speculative elements, but they're the outliers in that regard.