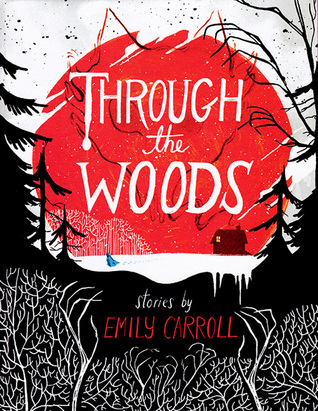 Through the Woods by Emily Carroll. ★★★★★
Through the Woods is a hauntingly beautiful collection of five short stories told through Emily Carroll's stunning artwork. I borrowed a copy from a friend, but this is the sort of book that I desperately want to go out and get my own copy of so that I can cherish it and spend hours pouring over the artwork.
The stories call to mind fairy tales of the darkest sort – blood, death, and the creeping shadows of the mysterious woods. The first story, "Our Neighbor's House," is about three girls who's father tells them that if he is not back by sunset of the third day, they should immediately trek across the snow to the neighbors. "A Lady's Hands Are Cold" is reminiscent of the "Bluebeard" fairy tale. "His Face All Red" is about a man who killed his brother in the woods. In "My Friend Janna," a young woman pretends to speak to ghosts but becomes haunted herself. "The Nesting Place" is a horror story of a girl who goes to stay with her brother's fiancee.