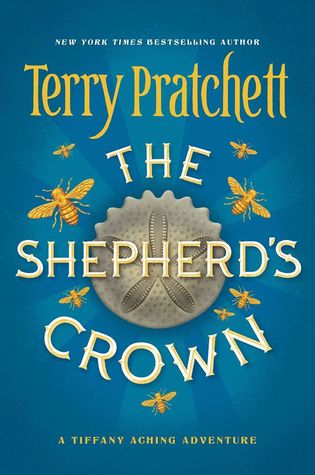 The Shepherd's Crown by Terry Pratchett. ★★★★
The Shepherd's Crown is the forty-first and final Discworld novel. This is an emotional experience. While I'm sad that the Discworld series is over, I feel like The Shepherd's Crown is an appropriate ending.
If you haven't read at least the witch novels (starting with Equal Rites or Wyrd Sisters) and the Tiffany Aching novels (starting with The Wee Free Men), please don't pick up The Shepherd's Crown. This is a book to end on, not begin with.
The Shepherd's Crown is the fifth novel following Tiffany Aching witch of the Chalk, and the Discworld has greatly changed since it began in 1983 with The Color of Magic. It is more industrialized and modern, much closer to our own world than the medieval fantasy land it started out as. After a devastating event early on in the novel, the elves, a sinister and parasitic species who live in Fairyland, sense a chance to wreck havoc on the Disc. But this is no longer a world kind to elves – iron burns their skin and negates their magic, and since the coming of the train in Raising Steam, iron has filled the land.
Still, the elves will ride out. And Tiffany and the other witches will be there to stop them.