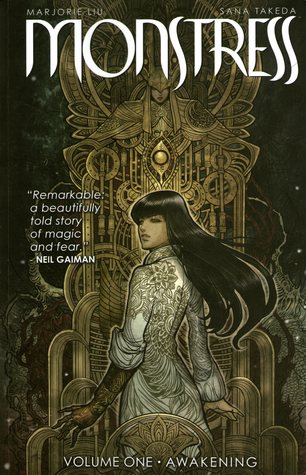 Monstress: Awakening. Writing by Marjorie Liu and art by Sana Takeda. ★★★★
Monstress is a darkly enchanting story told in comic book format. I read a bound version that collected the first six issues into something more akin to a graphic novel. I'm not generally much of a comic book reader (although I've picked up a bit of Ms. Marvel), but I just kept hearing such wonderful things about Monstress. And once I read it, I knew it was something I needed to review.
Monstress is a fantasy story, set in a world divided between two principal groups: the humans and the Arcanics. The Arcanics are the half human children of the immortal ancients, grown so numerous in number that they make up their own distinct group, gifted with some of the powers of their parents. Humans have no magic and are under the sway of the Cumaea, a group of priestesses who preach the purity of the human race and cannibalize Arcanics for the magic in their bones. Before the start of Monstress, the humans and Arcanics were at war, but now a tenuous peace exists.