Hello everyone! January is not so horribly busy as I'd feared, although I often do wind up busy with the internship. Mostly, I just want to fast-forward through this semester until I get to Spring Break. Not just because breaks from classes are nice, but because come April, I can finally start job applications. I'm ready to move on from school and into the next part of my life.
My DNFs this month are all pretty good books that just didn't work out for whatever reason.
My first DNF for this month was Polaris Rising by Jessie Mihalik. It's a sci-fi romance, and the romance aspect wasn't really working for me. I like it when romantic subplots are based on friendship, not how attractive and dangerous the love interest is. It wasn't really my type of thing, but the publicity department at HarperVoyager was kind enough to give me an ARC so I figured I'd try! I think it will work well for a different audience. It gave me some sci-fi Ilona Andrews vibes, so if you're more into romance than me, maybe give it a go?
I was so excited about Dragon Pearl by Yoon Ha Lee! I don't normally read middle-grade fiction (it just tends to feel too young for me), but I made an exception for one of my favorite authors. I read the first hundred and fifty pages of Dragon Pearl (which is roughly half the book), but I just wasn't feeling it. If I read it all the way to the end, I probably (bar any surprising turn arounds) would have given it three stars. I think it comes down to me not being very interested in middle grade — I miss the complexity and darkness of Yoon Ha Lee's adult work. And it didn't feel fair to review a middle-grade novel from that perspective, so I decided to DNF and just mention it here.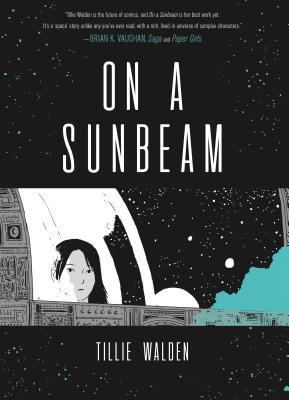 So I feel really bad about DNFing On a Sunbeam by Tillie Walden, but I need to accept that I'm not going to go back and read the last half. On a Sunbeam is a space fantasy centering on a romance between two girls. The universe forces them apart, and years later, one starts a search for the other. The art is good… but I wasn't in love with it. However, I think what did me in was not being overwhelmingly interested in the plot or characters. And this all just feels so weird because it's a good book and sounds exactly like something I would like. I even mentioned liking it on Twitter!
Maybe I just don't have a lot of energy for reading right now? I'm doing a lot of slush reading for my internship, and slush reading tends to eat up my enthusiasm for me-reading. Luckily, audiobooks seem to bypass that, so I've been listening to a lot of those in my free time. Thank you Overdrive!
Here are the reviews I have written and scheduled for February:
A review of Failure to Communicate by Kaia Sønderby
A review of The Raven Tower by Ann Leckie
A review of The Mystic Marriage by Heather Rose Jones
A review of The Kingdom of Copper by S.A. Chakraborty
A review of Out of Salem by Hal Schrieve
A review of The Bitterwood Bible by Angela Slatter
And here's what I'm still working on for February:
A review of The Night Tiger by Yangsze Choo
A review of Transcendent, a volume of trans SFF short fiction
In February, I'll mostly be working on my March ARCs, which include The Rosewater Insurrection by Tade Thompson, the short story anthology New Suns, The Deepest Blue by Sarah Beth Durst, A Memory Called Empire by Arkady Martine, Descendant of the Crane by Joan He, and The Luminous Dead by Caitlin Starling. Some of these actually come out in early April, but I plan on having my reviews up in March… so I'd better get reading!
Otherwise, I'd like to continue trying to read a few books from other genres. Originally, I was going to talk about being apprehensive about reading my first contemporary romance genre and how romance can be a hard sell for me (which is likely related to various queer identity stuff). But then I started reading A Princess in Theory by Alyssa Cole, and I'm really enjoying it! I think it's like how when it comes to movies, I like romantic comedies but not the dramatic romance ones? Humor makes a lot of things work, although I'm still skipping all the sex scenes.
---
Reviews from January
4 stars
How Long 'til Black Future Month? by N.K. Jemisin
The Rook by Daniel O'Malley
3 1/2 stars
In an Absent Dream by Seanan McGuire
Spinning Silver by Naomi Novik
Kingdom of the Blazing Phoenix by Julie C. Dao
3 stars
Scourge of the Seas of Time (and Space)
A People's Future of the United States
No Man of Woman Born by Ana Mardoll
---
Of course, not everything that goes up here is a standard book review. In particular, I recently joined in on the Waiting on Wednesday meme, where I post about an upcoming book. These posts are pretty quick to write, and they seem popular so far!
Waiting on Wednesday posts:
Otherwise, I wrote:
What are you up to in February?