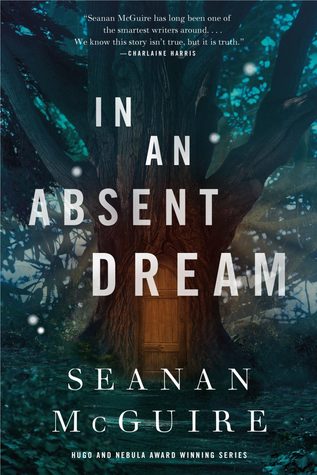 In an Absent Dream by Seanan McGuire. ★★★1/2
In an Absent Dream is the fourth novella in Seanan McGuire's Wayward Children series, portal fantasies about children who find doorways to other worlds. While it is the fourth in the series, In an Absent Dream works as a stand-alone and has a mostly-new cast. If you want, you can read it without having read any of the others… although I think some of the prior books are stronger.
Katherine Lundy grew up during the 1950s and 60s with the general expectation that she would become a wife and mother, and maybe also a librarian. But at age six, Lundy finds a door that leads her to the goblin market. The goblin depends on rules and the giving of fair value — nothing is free, and debts have consequences. Katherine can come and go from the goblin market until the age of eighteen, where she must choose between the world of her birth and family and the world where she's found freedom and friendship.
Apparently, Lundy is in the other books of the series, appearing as Eleanor West's second in command… although I'll say nothing further in case you, like me, forgot about her there. In most respects, In an Absent Dream is a stand-alone, taking place far before any of the other novellas and introducing Lundy and the world of the goblin market.
A couple months ago, I read a Twitter thread by Jeanette Ng about how love triangles function in young adult literature as a choice between futures for the protagonist (and some of the problems with using romance to symbolize this). In an Absent Dream does not have a love triangle. In fact, it has no romance plotline whatso ever. Instead, Lundy's coming of age and the choice she must make about who she is to become is represented through the choice of worlds… and perhaps while there is not a romantic love triangle, she is torn between her sister in this world and her best friend in the other.
The goblin market is a world designed to be fair and make sure that people don't cheat each other. Sometimes, it's still not entirely fair — Lundy's best friend was orphaned at a young age and grew up in the goblin market without anyone to help her navigate the pathways of debts and exchanges. When a resident of the goblin market takes on too much debt, they are transformed into a bird, and it can be hard to ever find the way back to your human shape.
In an Absent Dream is sort of mid-range for the series. I didn't love it as much as Every Heart a Doorway or Down Among the Sticks and Bones, probably because the thematic material didn't hit me as hard. But on the other hand, it's stronger than Beneath the Sugar Sky. While it may not be the most magical entry into the series, it is not a disappointment. I'll continue to follow the Wayward Children series with pleasure.
I received an ARC in exchange for a free and honest review.