Hello everyone!
I feel like I've spent the last four months starting these recap posts by talking about how busy I am. Well, that hasn't changed! And if anything, the spring is going to be even more intense. I'm going to be a full-time student and working both as a writing tutor at my college and as an intern for Creative Media Agency. Oh, and since I'm graduating, I'll also be sending out job applications and writing cover letters! Hooray! I can't tell you when my life will get less busy, because I've honestly got no clue where I'll be come June.
With all that happening, I've decided I need to scale back on requesting Netgalley ARCs. This is an easy decision to make, but let's see if I stick to it. Also, I want to get more ruthless about quitting books that aren't working for me. It's not so much, "life's too short to read bad books" as "I've got too little time for mediocre books." Hence, you may be seeing more books in my recap's "DNF" section. For example, this month I'll be talking about three books I didn't finish: The Deceivers by Kristen Simmons, Immoral Code by Lillian Clark, and The Psychology of Time Travel by Kate Mascarenha.
I ventured outside of science fiction and fantasy for The Deceivers by Kristen Simmons, a young adult contemporary novel about a school for aspiring con artists. Thank you to Netgalley and Tor Teen for the ARC! I read the first 60% of the book, but then I realized that I wasn't really enjoying The Deceivers. I was excited by the comparison to Ocean's 11 and a female lead. Unfortunately, The Deceivers seemed more about school drama (our lead versus the mean girl who's out to get her, admittedly in some pretty nefarious ways) and gathering intel on high ranking targets. Which in this case means our protagonist pretending to date the son of a senator. So The Deceivers wasn't a heist novel like I thought (or at least not in the first 60%), and the plotline relies upon the female lead seducing a guy… which isn't what I'm looking for in female con artist books. At 60% and with a bunch of other books to read, I thought it was best to cut my loses.
---
I requested an ARC of Immoral Code by Lillian Clark for similar reasons. I love heist stories, and this follows five teenagers who are planning a heist to take seventy thousand from their friend's estranged father. He's never even met her, but his massive fortune means she was denied financial aid and wouldn't otherwise be able to attend MIT. I thought the concept sounded really fun, and Immoral Code has the added bonus of including an aroace protagonist, Reese, one of the five. As with The Deceivers, I reached 60% before I decided to quit. Here's the main problem: all five members of the heist crew have their own first-person POV sections, and their voices are almost completely indistinguishable. I constantly was having to flip back to the name at the start of the chapter to remember whose head I was in. Plus, the narration style is very rambly and not in a way that was working for me. The heist elements also weren't super prominent in the part I read, which was more concerned about the group dynamics… which would have worked better if I cared more about the characters.
I'm breaking my pattern of "one paragraph per DNFs" to go more in-depth on the aroace representation in Immoral Code, since I haven't seen much about it beyond that it's there. I'm asexual and on the aromantic spectrum, and some things about Reese felt off to me. Firstly, the ARC calls her "acearo", which I've never heard before (I've only ever heard "aroace"). Maybe "acearo" is used mostly in another country or in some specific corner of the aromantic and asexual communities? There's also a use of an extended food metaphor to explain asexuality and aromanticism. AKA, "some people don't like chocolate and that's okay." If you are on the aro or ace spectrum, you've likely heard this metaphor before, so it me feel like the whole thing was included for non-ace and non-aro people. Which is fine. More people knowing aromanticism and asexuality would make my life easier, but it also kind of made me feel that I wasn't the target for Reese's character.
Then there's Reese's friend group. It just felt so weird that Reese was the only queer person in the friend group. Out of my close friends from high school, pretty much all of us had come out by the end of our first year of college. Immoral Code does briefly show that Reese has at least one other queer friend, so it's not like Reese is completely isolated. But it also felt weird that all her straight friends knew so much about asexuality and aromanticism, particularly the in-community stuff. Reese's friends joke about her being a "space ace" and at one point use the word "allo" (which means non-asexual or non-aromantic). This is the sort of stuff I'd normally only see from other ace or aro people; I've never had even my allo queer friends use the word "allo" or reference asexual community puns. Legit, the one time I've had the word "allo" used around me was when an ace-exclusionist (AKA queer people who don't think ace people qualify as queer) told me that the word "allo" was problematic. It's perfectly possible that other ace and aro people have had friends more like Reese's, and I don't want to reject the representation that Immoral Code is offering just because it doesn't fit my own experiences. In the end, it's mostly just depressing that what struck me as so unrealistic was the in-depth knowledge and acceptance of her friends.
---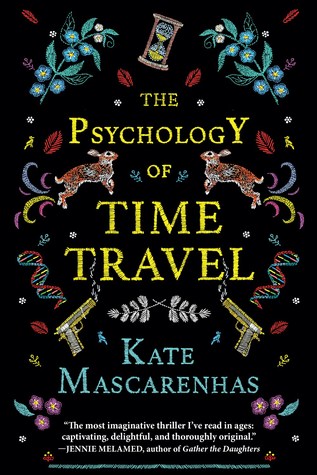 I made it only 25% of the way through The Psychology of Time Travel by Kate Mascarenhas. The Psychology of Time Travel is about four female scientists who build a time travel machine in 1967, but when one has a breakdown, she's shut out by the rest. The story follows the granddaughter of the exiled scientist as she tries to unravel her grandmother's past and the mysterious murder of an unidentified woman. I'll be honest: I was planning to pass on The Psychology of Time Travel until I heard that the character of the granddaughter was queer. Then I thought to give it a try. Unfortunately, I should have stuck with my initial instinct. The characters of The Psychology of Time Travel mostly have similar voices, with only Margaret being distinct of the sections I read. Finally, the pacing could have been improved and the mystery aspects strengthened. I felt no compelling urge to know who the murdered woman is. Since neither the plot nor characters were interesting me, I decided to move on.
---
As ever, I'm behind on reviews, but I do have most of my reviews for January written and scheduled:
A review of Kingdom of the Blazing Phoenix by Julie C. Dao
A review of How Long 'Til Black Future Month? by N.K. Jemisin
A review of In an Absent Dream by Seanan McGuire
A review of The Rook by Daniel O'Malley
A review of A People's Future of the United States
A review of Scourge of the Seas of Time (and Space)
My plan is to have eight reviews total in January. Here are the posts that I'm currently working on:
A review of The Mystic Marriage by Heather Rose Jones
A review of No Man of Woman Born by Ana Mardoll
In the first week of January, before responsibilities start piling up, my goal is to get as far ahead as possible on ARCs. I'm actually in a pretty good place right now with most of my February books already read. That said, here's what I'll likely be reading in January: The Waking Forest by Alyssa Weese, Out of Salem by Hal Schrieve, The Rosewater Insurrection by Tade Thompson, The Perfect Assassin by K.A. Doore, the New Suns anthology, and A Memory Called Empire by Arkady Martine. Are you excited about any of these? Then let me know in the comments!
---
Reviews from December
4 stars
Skyward by Brandon Sanderson
Minimum Wage Magic by Rachel Aaron
Beneath the Citadel by Destiny Soria
Swordheart by Ursula Vernon
3 1/2 stars
Fire and Heist by Sarah Beth Durst
The Girl King by Mimi Yu
3 stars
European Travel for the Monstrous Gentlewoman by Theodora Goss
Kingdom of Needle and Bone by Mira Grant
---
While most of my posts this month were reviews, I also had the following posts:
I've also published a list post with Tor.com on ten stand-alone fantasy novels! I'd love to do similar posts (either for Tor or some other venue), but I doubt I'll have much time in the spring. As I mentioned at the start of this post, Writing tutor job + internship + classes + job applications = a very full schedule.
What are you up to in January? Any books you're planning on reading?