I thought it would be fun to do a review of what queer SFF books I read in 2018 and just the general state of queer SFF this year. I asked on Twitter whether people would prefer to see this reflection broken up by identities or genres, and genres it was!
Before I get into the various subgenres, there's one anthology that came out this year that I really want to read but haven't gotten to yet! Transcendent 3: The Year's Best Transgender Speculative Fiction has such a great author line up, and the stories in it I've read are amazing. It's on my to-read list, and I hope to get to it soon.
Also, my usual disclaimer when talking about queer books is that these skew heavily towards queer women (since, you know, I'm a queer woman and that's what I tend to read).
Adult Fantasy
This year has given us some great new queer fantasy novels, from continuations of established series to debut novels.
Novellas
Tor.com released The Descent of Monsters by JY Yang (third in the Tensorate series) and Beneath the Sugar Sky by Seanan McGuire (third in the Wayward Children series). I'll admit I haven't gotten around to Descent of Monsters yet, but I have no doubt that it will be delightful. I have read Beneath the Sugar Sky, but I don't think it wholly lived up to the previous two entries to the series.
Sequels
Django Wexler finished up his Shadow Campaigns series, a military fantasy, with The Infernal Battalion. While I'm still not happy with the race issues in the series (these were most prominent in the first book), I love the plotting and characterization. Also, the lesbian lead doesn't die! Horray!
Lara Elena Donnelly gives us the sequel to Amberlough, Armistice, a non-magic fantasy novel in which the protagonists deal with the rise of a fascist government. One of the protagonists, Aristide, is a queer man.
In urban fantasy, Mishell Baker wrapped up The Arcadia Files with Impostor Syndrome. I've really loved this series and am sad it's over. If you're looking for a fantasy novel that deals with disability issues and has a truly memorable female protagonist, this trilogy is for you. The protagonist is either bisexual or pansexual.
Also in urban fantasy (and also a portal fantasy for that matter), Na'amen Gobert Tilahun's The Tree is a genre-mixing novel where the descendants of gods fight demons from another world. It's the sequel to The Root and part two of a planned trilogy. I liked The Tree overall, but I do think it would have benefited from a reduced POV cast. In terms of queer identities represented, the principal hero is a gay young adult and the supporting cast has a wide range of other queer identities.
Ruthanna Emrys continues to reimagine Lovecraft with Deep Roots, the sequel to Winter Tide. I'm not familiar with the Lovecraft mythos, but I still really enjoy this series. The protagonist is an asexual woman.
Kate McIntyre is nearing the end of her Faraday Files, her Edwardian-inspired fantasy mystery series with a bisexual male lead. After this year's The Heartreader's Secret, there's only one more book to go, and you can bet I'll be reading it.
Finally, there's also a couple of new installments in series that I'm not following but that are probably worth mentioning in a post on queer SFF. Seth Dickinson had The Monster Baru Cormorant released this year and K. Arsenault Rivera had The Phoenix Empress released. Both are epic fantasy novels starring queer women.
Stand-alones and first in series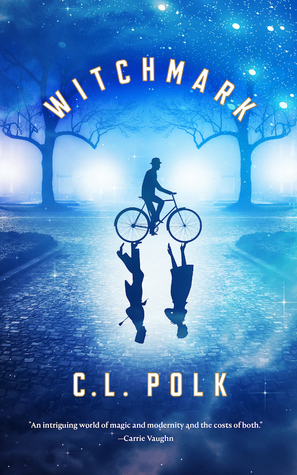 This year actually gave us two queer, Edwardian-inspired, fantasy novels! Witchmark by C.L. Polk is a debut novel where the lead has secret magic powers and gets wrapped up into investigating a murder. The protagonist is a gay man. Although Witchmark is a stand-alone, C.L. Polk will be returning to the same world later next year with a new, f/f novel.
My other favorite stand-alone queer fantasy of this year is In the Vanishers' Palace by Aliette de Bodard, a genre-mixing, f/f retelling of "The Beauty and the Beast." In this one, the Beast is a dragon mother of two! Isn't that wonderful? I enjoyed the book immensely and would highly recommend it.
While I wasn't a huge fan of it (I thought the plotting was weak), 2018 also gave us Moonshine, a Prohibition-era-inspired fantasy novel with an aromantic man as one of the lead characters.
On my to-read list, there's The Last Sun by K.D. Edwards (not sure of the exact fantasy subgenre here), Deadline by Stephanie Ahn (urban fantasy), and Baker Thief by Claudie Arseneault (fantasy mystery). All three books are the first in new series.
Short Fiction Collections
Ana Mardoll released a fantasy short story collection called No Man of Women Born that I actually just received a review copy of! So you can expect to see a review sometime in early 2019.
Adult Science Fiction
Although I tend towards fantasy, I did end up reading a number of queer science fiction novels published in 2018.
Sequels
Yoon Ha Lee's Machineries of Empire trilogy is absolutely amazing. While I loved the third and final book, Revenant Gun, I'm sad that the series is over. If you're not familiar with the series, it's a space opera/military science fiction with a wide range of queer characters.
Tim Pratt gave us the second installment of his Axiom series, The Dreaming Stars, which continues this incredibly fun space opera series. Look, there are really great aliens, and I love well-written aliens! Plus, the protagonists are a f/f couple, one of whom is demisexual.
Mutiny at Vesta by R.E. Stearns is the sequel to Barbary Station, in which lesbian space pirates battle a rogue AI. I've had mixed reactions to the series, but I do hope it continues.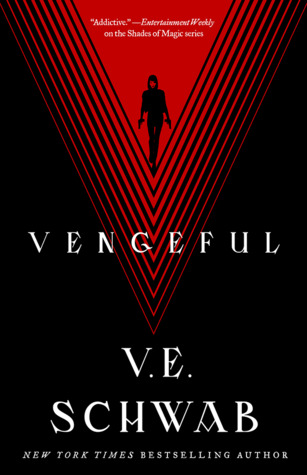 Becky Chambers gives us a third Wayfarers book, which are sort of like cozy space stories. Record of a Spaceborn Few follows a number of characters in the Exodus Fleet, a group of humans with their own distinct, isolated culture.
Getting out of space and onto a planet, Blood Binds the Pack by Alex Wells wraps up a sci-fi Western story established Hunger Makes the Wolf. I had a feeling that one of the two protagonists, Mag, was queer, but Blood Binds the Pack confirms it! Mag gets a girlfriend!
And now for something completely different, Vengeful is V.E. Schwab's long-awaited return to the world of Vicious, a dark take on superheroes. In this book, she confirms protagonist and anti-hero Victor Vale as asexual.
Over in self-published books, Tone of Voice by Kaia Sønderby is the sequel to Failure to Communicate, a series following an autistic and bisexual/pansexual first-contact expert. I read Failure to Communicate and loved it, so I need to get my hands on Tone of Voice.
Stand-alone novels and first in series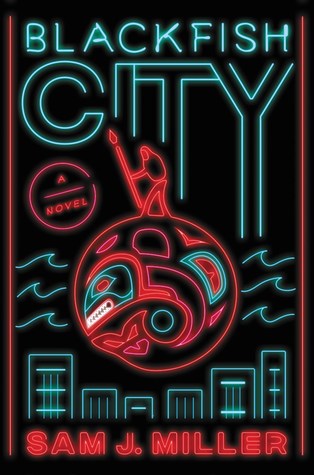 My favorite of this category is far and away Sam J. Miller's Blackfish City, a hopeful environmental dystopia. The entire book is set in a city that is as much a character as any of the protagonists, and the POV cast includes a nonbinary character.
I was not as thrilled with Tristan Palmgren's Quietus, which had a male protagonist I read as being bisexual, although it's kind of a "blink and you'll miss it" sort of representation. Anyway, it's trans-dimensions and time travel. 
Similarly, Daughters of the Forgotten Light by Sean Grigsby did not impress. It's a dystopic novel where unruly women are sent to a harsh prison in space. There were a number of queer characters including an asexual protagonist, but I found the writing and storyline to be exploitative.
Short Fiction Collections
We're not done with science fiction yet! A couple of authors released short story collections centered around a queer protagonist.
Murder on the Titania and Other Steam-Powered Adventures by Alex Wells is a collection of steampunk mysteries following a queer, female pirate captain who solves mysteries for fun.
Meanwhile, Kameron Hurley returns to her delightful bisexual anti-heroine Nyx and her bugpunk world with Apocalypse Nyx. Nyx is forever and always my favorite anti-heroine
Young Adult Fantasy
I haven't been reading as much YA lately, and you can really tell it from this post. If you think YA fantasy is paltry, just wait until you get to the section on young adult science fiction.
Sequels
The Ruin of Stars by Linsey Miller is on my TBR pile, but I haven't been able to find the time yet! It's a second-world fantasy with a genderfluid assassin as a protagonist.
On the other hand, I'm not planning on reading Chainbreaker by Tara Sim (DNF'ed the first book), but I figure it's worth mentioning in this post. It's sort of alternate history with time magic and a gay protagonist?
Stand-alone novels and first in series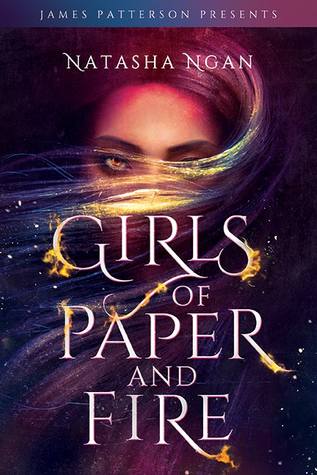 Girls of Paper and Fire by Natasha Ngan is the f/f second-world fantasy book that everyone's talking about. And there's a reason! It's simply amazing. Gripping and powerful, Girls of Paper and Fire ripped my heart to pieces and has only started to put it back together again. I'm desperate for the sequel to be released.
I swear to you that I will read Beneath the Citadel by Destiny Soria. I loved her first book, so I am 100% sure that this second-world fantasy novel will be amazing. So pinky swear: sometime within the next six months, you will see a review from me.
I haven't read Inkmistress by Audrey Coulthurst, and at this point I need to admit that I probably won't. Too many books and too little time! But it's a YA second-world fantasy with a bisexual heroine that came out earlier this year.
Young Adult Science Fiction
I only read one queer book that could fall into the category of science fiction: Dread Nation by Justina Ireland. Alternate history is sci-fi, right? And zombies? Those are totally sci-fi… unless they're horror? Well, whatever category you put it in, I really enjoyed Dread Nation.
Books to Look Forward To
I'll do a general post on upcoming January and February books sometime in December, but there are so many great queer SFF books coming out in 2019!
C.L. Polk is returning to the world of Witchmark with Greystar, a f/f fantasy novel.
Even though Yoon Ha Lee's Machineries of Empire trilogy is over, he's releasing a short story collection called Hexarchate Stories.
Ada Hoffman's The Outside is a Lovecraftian, f/f space opera that I'm really looking forward to.
K.A. Doore is releasing The Perfect Assassin, the first in a high fantasy series, and I've heard the heroine is asexual! Also, I've got a ARC so watch for a review.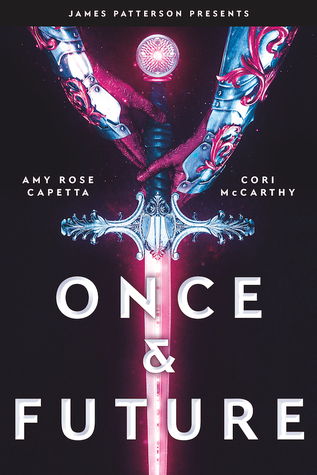 Once & Future by Amy Rose Capetta and Cori McCarthy is a queer, gender-bending, YA space opera retelling of King Arthur. As someone who is currently enmeshed in a King Arthur class… I want to see a queer take on it so badly!
We Set the Dark on Fire by Tehlor Kay Mejia is a YA dystopian novel dealing with immigration issues… and it has a f/f romance subplot!
The Afterward by E.K. Johnston is an epic fantasy about the aftermath of saving the world, and I've heard one of the female leads is queer, although I don't have much more info.
Beyond the Black Door by A.M. Strickland is a YA fantasy with an asexual protagonist.
C.B. Lee should be releasing the third in her Sidekick Squad series, Not Your Backup, which is a YA superhero series.
I've heard Gideon the Ninth by Tamsyn Muir is queer. Also, it's a science fantasy with a necromancer for a protagonist.
That's a lot to look forward to!
---
What were your favorite queer SFF books of 2018? Any obvious ones I'm missing? Any you're looking forward to? Let me know in the comments!