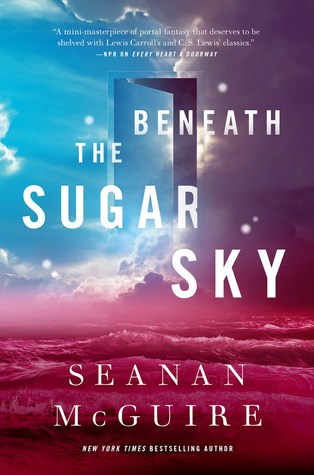 Beneath the Sugar Sky by Seanan McGuire. ★★★1/2
Beneath the Sugar Sky is the third novella in the Wayward Children series, which is about children who find doors to magical worlds… but then end up back in this one. I heavily suggest reading at least Every Heart a Doorway before you read Beneath the Sugar Sky. Also, the rest of this review will contain a spoiler for Every Heart a Doorway. I can't help it, that's the plot of Beneath a Sugar Sky!
Okay, are all the spoiler-averse people gone? Yes? Good. So Beneath the Sugar Sky returns us to Eleanor West's Home for Wayward Children, after the events of Every Heart a Doorway but through the perspective of a new character, Cora, who was in a mermaid-like world. She wasn't around for the events of the previous books and just vaguely knows there were some murderous incidents. And then Rini falls out of the sky. She's the daughter of Sumi, who was murdered last book, and she's starting to disappear because of it. You see, Sumi wasn't supposed to die. She was supposed to go back to her magical Candyland and save the world and have a daughter. But now all that's unraveling, and Rini's shown up to demand that the students of Eleanor West's school help her fix it.
I didn't like Beneath the Sugar Sky as much as the previous books. Maybe there were simply too many characters? It's one of those novellas that feels perhaps too jam-packed full of people and events. There's not enough chance for any one character or scene to really shine. Overall, Beneath the Sugar sky just didn't give me the same emotional response as the other two novellas.
I don't know how I felt about Cora. Before finding her door, she was bullied about her weight to the point where she's having mental health issues. I appreciate having a fat protagonist, but I felt like that trait was over-focused on to an extent we haven't seen with any of the other marginalizations in the series. A couple of other reviews point this out, but the narrative keeps bringing up how athletic Cora is like it's trying to distance her from other fat people and present her as "one of the good ones."
I liked seeing the characters from Every Heart a Doorway again, and I enjoyed Beneath the Sugar Sky's journies through many different doors. While I didn't overall find it as compelling as the rest of the series, I still plan to read the next installment.