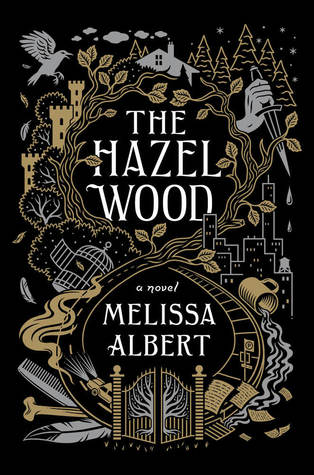 The Hazel Wood by Melissa Albert. ★★1/2
I have so little to say about The Hazel Wood. Largely, this review will come down to this comment, "All style, no substance."
Alice has spent most of her life traveling the road with her mother, driving out of town whenever bad luck hits. But after the death of her grandmother, an almost mythical author fairy tales who lives alone on a secluded estate called the Hazel Wood, Alice's mother decides that their bad luck is at an end. She settles down and is determined to leave the past behind them. Only, the bad luck is nowhere near the end. One day, Alice comes home from school and finds her mother kidnapped and the only clue a note saying, "Stay away from the Hazel Wood." Obviously, Alice does not stay away, particularly as characters from her grandmother's stories appear to be behind her mother's disappearance.
Let's start with the positives. Melissa Albert does a fantastic job of creating an atmosphere. Alice's seemingly ordinary life is infused with a sense of magic and creeping danger. It's darkly enchanting, and the atmosphere alone helps keep those pages flipping. One of the highlights is the inclusion of some of her grandmother's fairy tales, which I enjoyed more than the main narrative. Oh, and the book design is also quite pretty. Kudos to the designer.
However, I ultimately felt like the atmosphere was all there was. Once Alice actually gets to the Hazel Wood, this becomes especially apparent. The whole novel was building to this point, and it didn't really deliver.
Characters also felt two-dimensional and forgettable. The world is helped by the atmosphere, but ultimately it's similar to other stories I've read before.
I know this review is thin and perhaps insufficient, but that's how I felt about The Hazel Wood. I'm not planning on reading the sequel.