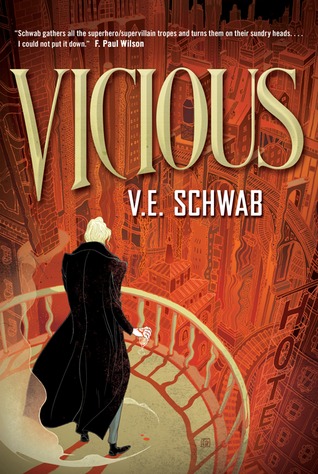 Vicious by V.E. Schwab. ★★★1/2
If every villain is the hero of his own story, is every hero the villain of someone else's story?
In Eli, Victor recognized a shared darkness. The college roommates started working together, researching into the origins of extraordinary abilities. A clear pattern emerges: supernatural abilities develop after near death experiences. From theory, it's a short jump to experimentation, with Victor and Eli setting out to give themselves powers. These experiments give them powers, but they also lead to death and betrayal. Victor has spent the last ten years in jail, plotting his revenge. Now, he's broken out and is ready to put his plans into motion.
Eli considers himself a hero; chosen by God to eliminate all those with superpowers, barring himself of course. Victor wants to take him out, but he sees himself more as a villain than a hero, musingly comparing himself to Magneto. While the battle between the two dominates the book, others are drawn into their lives, primarily two sisters: Serena and Sydney, whose complicated (perhaps this is an understatement) relationship mirrors Eli and Victor's.
None of the characters are fully heroic (perhaps Sydney comes the closest), but even the ones who embrace their own monstrosity aren't always as inhuman as they believe. While Eli and Victor are focused on their own goals, they both have people around them. They might not acknowledge caring for others, but they both do in their own way. That said, I think Victor (for all his embrace of villainy) is perhaps the less twisted of the two.
"But these words people threw around – humans, monsters, heroes, villains – to Victor it was all just a matter of semantics. Someone could call themselves a hero and still walk around killing dozens. Someone else could be labeled a villain for trying to stop them. Plenty of humans were monstrous, and plenty of monsters knew how to play at being human."
I love the grey zones and complications Schwab plays with here. However, the greatest strength of Vicious lies in the pacing. It's amazingly fast and gripping. It's one of those books I was unable to put down. In fact, I ended up reading all of it in a single day.
Unfortunately, Vicious isn't without its flaws. I was sort of bothered by the treatment of the female characters. While both Sydney and Selena are important, it ultimately is still a battle between two men with dead women left on the sidelines. There's at least one woman who was clearly fridged, and another for whom it is arguable. This isn't the first time I've had trouble with Schwab's female characters, so I'll have to keep an eye on it in the sequel.
And yes, I still plan to read the sequel. Even if I had criticisms, the story managed to sweep me away.
P.S. Yes, I know Schwab has said on Twitter that Victor is ace and that the ace community has concerns with that possibly falling into problematic stereotypes. No, I didn't address it here, primarily since it's not actually in the narrative. I've heard it will be made textual in the sequel, so I will discuss it in my review of that book.