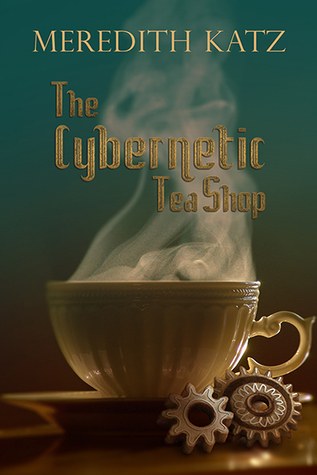 The Cybernetic Tea Shop by Meredith Katz. ★★★1/2
The Cybernetic Tea Shop is a light, refreshing read that manages to be sweet without becoming saccharine.
Sal is one of the few remaining sentient AIs, as their creation was banned centuries before. Sal's passed the years with a steady routine, running an old fashioned tea shop for what's been almost three hundred years. The tea shop belonged to a woman she loved, and she keeps the shop going as a sort of shrine to her.
Clara is a technician who specializes in the programming of non-sentient AI companions. She's a restless sort of person who never likes to stay very long in any one place. When she comes to Seattle, she finds Sal's tea shop, and she brings some unexpected change into Sal's life.
The Cybernetic Tea Shop is a quick story; I read it in the span of an hour between two of my classes. It's listed as a novella, but at only sixty-seven pages, I'm not sure if it would actually qualify as a novelette. Anyway, it's a book I guarantee can be read in one day.
What drew me to The Cybernetic Tea Shop was the knowledge that Clara was asexual. I'm not sure I've ever read a f/f asexual romance, and The Cybernetic Tea Shop is one that kept popping up as a recommendation. The word is never used, but Clara describes herself such that it's clear she is ace. Part of me wonders if there's some sort of pattern in SFF stories with ace romances of the ace person falling in love with a ghost or a robot or someone else where sex isn't really an option anyway. I don't think it's a fault of The Cybernetic Tea Shop, but it's a pattern I think I'm going to keep my eye on.
The Cybernetic Tea Shop is a lovely, quiet science fiction story about grief and moving on with life. If that sounds like your cup of tea, than I suggest giving it a read.