Goodbye to 2017! I'll be having an official, end of the year recap post up soon, but for now, you've got this recap for the month of December.
---
Somehow the interesting links section ended up super small this month. I don't know if I've been reading less interesting articles or if I've just forgotten to jot the links down here. Either way, I hope you enjoy what I've got to offer.
Interesting links:
---
On to my DNFs for the month of December.
I made it about halfway through Portland Diary: Short Stories 2016/2017 by Jamie Berrout. Portland Diary is a collection of seven short stories, many of which have a speculative element and most of which focus on trans women of color. There are things I've liked about the stories I read, but I also think it needs another round of editing. Besides copy editing, there's some structural issues with some of the stories. My favorite was a piece of realistic fiction, "Mansion," about a volunteer for a fictionalized version of the Human Rights Campaign who becomes disillusioned with their priorities and respectability politics.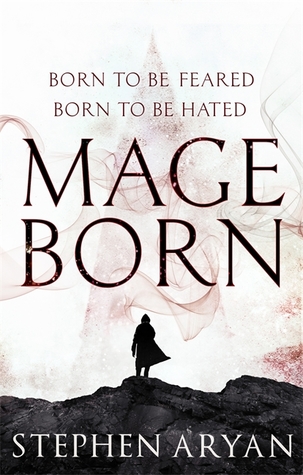 I read about the first 100 pages of Mageborn by Stephen Aryan, the start to an epic fantasy series. It wasn't bad, but it didn't capture my interest. I think that there were just so many characters, and many of them didn't have strong motivations. I wanted for the protagonists to be more personally invested in the plot line, which I think would have helped with the tension and pacing. On the good side, Mageborn was very good about remembering women are people who do things. The blurb sort of makes it look like it's centered around a male character, but actually most of the protagonists are female. It's a real pity I couldn't get into Mageborn.
---
So, there were some reviews that I said would get posted in December. For one reason or another, a few of these ended up getting pushed forward to January.
Here's what I've already got scheduled:
A review of Between Worlds by Martha Wells
A review of Buffalo Soldier by Maurice Broaddus
A review of Babylon's Ashes by James S.A. Corey
A review of The Marrow Thieves by Cherie Dimaline
A review of Old Man's War by John Scalzi
A review of The Infernal Battalion by Django Wexler
A review of Robots vs. Fairies
And here's what I'm working on:
A review of Markswoman by Rati Mehrotra
A review of Blood Binds the Pack by Alex Wells
A review of The Black Tides of Heaven by JY Yang
A list of my favorite SFF releases in 2017
An overview of my reading and reviewing in 2017
A list of recommended 2017 short fiction
More Tremontaine reviews
The last couple of months, I've been trying to post something every day. Going into 2018, I'm going to make a conscious effort not to — it's exhausting and stressful. I'm going to try to stick to a Tuesday, Thursday, Saturday schedule for reviews. I'll still have short story round ups, but fewer of them once the semester resumes. I'm also trying to get back to doing more author interviews and such, since I didn't have any this month.
As for what I'll be reading in January… it'll probably vary between catching up on ARCs and diving into some of my lovely Christmas books. For ARCs, I've got copies of Moonshine by Jasmine Gower and Blood Binds the Pack by Alex Wells. I might also read ahead to February's Tess of the Road by Rachel Hartman.
For Christmas, I received all sorts of promising new stories. I've finally got a copy of No Good Dragon Goes Unpunished by Rachel Aaron, the third in her fantastically fun Heartstriker series. Other sequels include The Black Tides of Heaven by JY Yang (The Red Threads of Fortune was so good ya'll) and Regeneration, the sequel to Dissension by Stacey Berg. I've got three short story collections I'm excited about: Sourdough and Other Stories by Angela Slatter, Her Body and Other Parties by Carmen Maria Machado, and Hawarhath Stories: Transgressive Tales by Aliens by Eleanor Arnason. Other exciting stories include The Lamb Will Slaughter the Lion by Margaret Killjoy,  The Raven and the Reindeer by T. Kingfisher, and Vicious by Victoria Schwab.
---
4 1/2 stars
The Stone Sky by N.K. Jemisin
Oathbringer by Brandon Sanderson
4 stars
The Language of Thorns by Leigh Bardugo
Forest of a Thousand Lanterns by Julie C. Dao
Monstress: The Blood by Marjorie M. Liu and Sana Takeda
An Excess Male by Maggie Shen King
Borne by Jeff VanderMeer
3 1/2 stars
The Sorcerer's Stone by J.K. Rowling
Barbary Station by R.E. Stearns
3 stars
Where the Stars Rise: Asian Science Fiction and Fantasy
The Golden Compass by Phillip Pullman
Sea of Strangers by Erica Cameron
Addict by Matt Doyle
2 stars
The Lion, the Witch, and the Wardrobe by C.S. Lewis
---
Other posts on The Illustrated Page:
And that's about it for December! What were you up to this month?