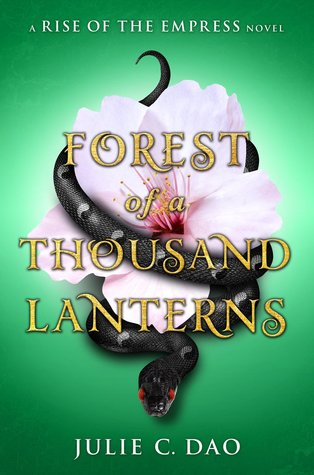 Forest of a Thousand Lanterns by Julie C. Dao. ★★★★
TW: physical abuse
In short, Forest of a Thousand Lanterns is the origin story of the evil Queen from "Snow White," set in an East Asian inspired fantasy world. So if a YA fantasy with a complex anti-heroine at it's center sounds like you're sort of thing, then you should really read Forest of a Thousand Lanterns.
Xifeng is beautiful, and she knows her appearance is her most important attribute. For her aunt tells her that she has a destiny: Xifeng is to become Empress, and her beauty must be her way to the top. But her path to the top will require more than just a pretty face. Xifeng must draw upon her determination, wits, and a dark magic taught to her by her aunt that requires her to eat the hearts of creatures she kills. Will Xifeng succumb to the darkness within her?
While I ask that as a question, the answer is fairly obvious once you realize the fairy tale origin of the book. There's an inevitability to Xifeng's moral fall that doesn't make her story any less compelling. I love a good antiheroine, and unfortunately they're all too thin on the ground. Xifeng is a wonderful addition, and if I was rewriting my list of best SFF antiheroines, she'd make it on there. She's sort of like Diora from Michelle West's Sun Sword books but gone to the dark side. The way she's weaponized hyper-femininity is really interesting.
I did wish the book had more positive relationships between women, but I also understand why it didn't. This is a villain's origin story about the evil queen of Snow White. Of course she doesn't get along with other women. They're all in competition for "fairest of them all," at least in Xifeng's mind. Given that this is a first in a series, I'm hoping that we'll see more friendships between female characters in other books. I have no illusions; I'm sure Xifeng will be the villain of the sequels, and it will probably be painful to watch.
Forest of a Thousand Lanterns isn't super fast paced, and there's not a whole lot of action. The events of the story are more subtle, barring some heart eating that is. For all that, I still had a hard time putting it down. There's something captivating about this book. It's obvious that Xifeng will fall to her darkest impulses, but the entire time I was rooting for her to fight it and become the person I thought she was capable of. It's really impressive that Dao's achieved this level of characterization and got me to invest so strongly in Xifeng.
Least you think Xifeng and her character arc are the only draw to Forest of a Thousand Lanterns, the world building was splendid as well. Dao creates a world that draws upon East Asian cultures, and she brings it vividly to life. After the opening chapters, the story eventually finds its home in the women's quarters of the imperial palace, a luxurious setting that I actually haven't seen much of in fantasy fiction (perhaps surprising, perhaps not). Anyway, I can tell Dao put a lot of work into the creation of the world, and I can't wait to see how she expands it in the sequels.
Because I'm certainly going to be reading the sequels. How could I not? Forest of a Thousand Lanterns was such a strong start, and I'd love to see where Dao takes the rest of the series.