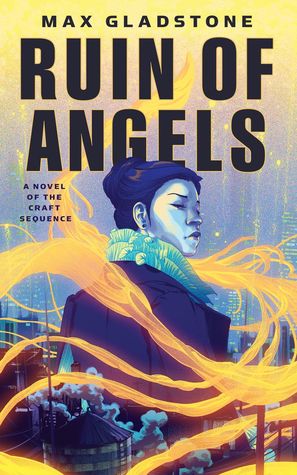 Ruin of Angels by Max Gladstone. ★★★★
Max Gladstone returns to the world of his Craft Sequence and especially the character of Kai, a protagonist in the prior novel Full Fathom Five. While there are references to the events of that novel, the plot stands on its own. I don't know if it's the first book I'd suggest as an introduction to the series, but it could work, especially if you're looking for a fantasy book with queer female characters.
Also, I think I can keep this review free from spoilers of prior books. So read without fear!
Kai is in Agdel Lex on a business trip (they've got a tech industry, mainly centered around the nightmare telegraph), and she hopes to reconnect with her sister, Ley, while she's there. But Ley's tangled up in something Kai doesn't understand. All she knows is that she has to help her sister.
Yet, that isn't all Ruin of Angels is about. During the God Wars, the city of Alikand became a battleground and ruins. The city of Agdel Lex was built on top of Alikand by a colonial empire, the Iskari. Yet the existence of Agdel Lex is precarious, balanced over the alternate reality of Alikand and the dying city. It's possible (if dangerous) to venture into the dying city, but the Iskari Rectification Authority is rigorous in tracking down anyone who breaches the realities.
Besides Kai, the other main POV character is Zeddig, Ley's ex-girlfriend. Zeddig is a native of Agdel Lex/Alikand, and her life's mission is to save as much of her people's history as she can. She dives into the dying city to rescue books, which she then returns to the proper owners if she can. Near the start of Ruin of Angels, Ley comes to Zeddig with a deal: she needs Zeddig and her crew (two other queer women!) to help her pull of a heist. In return, she'll give Zeddig technology that will let her delve into the dying city for longer than ever before.
And thus Ruin of Angels is also the story of an indigenous people trying to preserve their culture and history in the face of colonial oppression. While the Craft Sequence may take place in a world of talking skeletons, demons, and dragons, it never fails to reflect on our own modern world and the challenges that come along with it.
Indeed, Ruin of Angels looks set to propel the course of the Craft Sequence's world even closer to ours, with the idea of space exploration and technology being introduced. I can't even tell you how much I love this idea! It's not something that I've seen explored before in fantasy. Then again, that sentence could apply to so many things in the Craft Sequence. This series is brilliant, imaginative, and truly unique. I never fail to appreciate it's combination of modernity and magic.
I also love how these books consistently have a diverse cast and well written female characters. In fact, almost all of the major players in this book are women! I was very excited when Tara, from Three Parts Dead, made an appearance. It's always neat to see familiar characters through new eyes. As I've already mentioned, this book has a lot of queer female characters in important roles. Kai's trans, her sister Ley is lesbian, Zeddig is also lesbian, Zeddig's partner in crime is bi, and there's her love interest as well. It was delightful.
However, I don't think Ruin of Angels is my favorite Craft Sequence book (that title's preserved for either Full Fathom Five or Last First Snow). It didn't drag me in as hard as the best of the Craft books, and I think it had problems with pacing and tension at times. Still, it's a Craft Sequence book. A weak Craft Sequence book is still going to be fantastic.
Ruin of Angels once again proves that if you're not reading the Craft Sequence, you're really missing out.
I received an ARC in exchange for a free and honest review.