Welcome to my monthly recap! Here I go over what I reviewed in May, my non-review posts, and what you can expect to see come June.
As always, I'll start this post off with the books I quit this month.
My experience with self published titles on Netgalley has been rather hit or miss. Okay, mostly miss. I was drawn to Willow Born by Shanna Miles because of that gorgeous cover. Unfortunately, I realized pretty quickly that the book wasn't my thing. I quit about fifteen percent of the way through. The writing is really… hazy? I'm not sure how to describe this. It's like reading a dream sequence that lasts the whole book, with a sort of fogginess to everything even when you're not in a dream. That, and there was too much typical YA teen stuff for my taste. You know, the protagonist going to high school and meeting a hot guy, that sort of thing.
---
For June, I have reviews scheduled of The Boy on the Bridge by M.R. Carey, Shattered Minds by Laura Lam, A Closed and Common Orbit by Becky Chambers and Amberlough by Lara Elena Donnelly. I am currently working on reviews of Six Wakes by Mur Lafferty, Snake Eyes by Hilary Monahan, Wilders by Brenda Cooper, Parable of the Sower by Octavia Butler, Black Wolves by Kate Elliott, Persona by Genevieve Valentine, and The Ship Beyond Time by Heidi Heiling. I've also reviewed Stories of Your Life and Others by Ted Chiang, but I'm saving it to be a Throwback Thursday post this fall.
I've already got some books I want to read come June. For starters, I've got some ARCs I need to catch up with. The Refrigerator Monologues by Catherynne M. Valente, Parable of the Talents by Octavia Butler, and The Strange Case of the Alchemist's Daughter by Theodora Gross are all books I will certainly be reading and reviewing in June. Otherwise, I want to try to catch up on my reading goals and read some books centering around LGBTQIA characters for pride month. I don't know exactly which queer books I'll end up reading but these are some in my TBR: The Pyramid Waltz by Barbara Anne Wright, Rituals by Roz Kaveney, Tower of the King's Daughter by Chaz Brenchley, The Gilda Stories by Jewelle L. Gomez, City of Strife by Claudie Arseneault, The Alchemists of Loom by Elise Kova, Hunger Makes the Wolf by Alex Wells, Bone and Jewel Creatures by Elizabeth Bear, River of Teeth by Sarah Gailey, Sing the Four Quarters by Tanya Huff, Daybreak Rising by Kiran Oliver, and Banner of the Damned by Sherwood Smith. I may also check out some library books like All the Birds in the Sky by Charlie Jane Anders and The Traitor Baru Cormorant by Seth Dickinson. Obviously, I'm not going to get to all of these, but you can expect to see reviews of at least a few of them. Are you familiar with any of these? Which would you suggest I pick up first?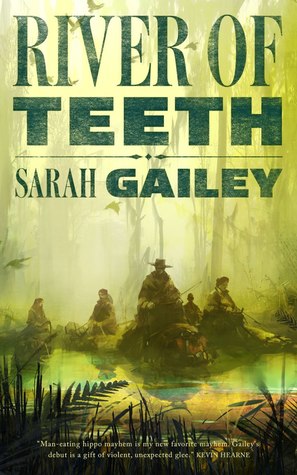 Come June, I've also got some non-review posts that will be going up. Next week I'll be hosting a guest post from Yoon Ha Lee, author of Ninefox Gambit, one of the best books I read in 2016! Additionally, I will be joining in a read along for Leviathan Wakes by James S.A. Corey.
---
Reviews from May:
4 1/2 stars:
All Systems Red by Martha Wells
4 stars:
King's Dragon by Kate Elliott
Raven Stratagem by Yoon Ha Lee
Monstress by Marjorie Liu and Sana Takeda
This Savage Song by Victoria Schwab
Spirits Abroad by Zen Cho
All Good Things by Emma Newman
Phantom Pains by Mishell Baker
3 1/2 stars:
Wicked Wonders by Ellen Klages
The Guns Above by Robyn Bennis by Robyn Bennis
The Screaming Staircase by Jonathan Stroud
The Dispatcher by John Scalzi
Resistance by B.R. Sanders
The Innkeeper Chronicles Volume One by Ilona Andrews
3 stars:
The Shining Girls by Lauren Beukes
Snapshot by Brandon Sanderson
Legion: Skin Deep by Brandon Sanderson
---
As usual, I've also had some non-review posts both here on The Illustrated Page and elsewhere. I've been lucky enough to host interviews with both Foz Meadows and Martha Wells. Also here on The Illustrated Page, I took a look at some of the SFF books being released this summer and discussed some of the Locus short fiction nominees.
Over on Her Campus, my last post of the spring semester was a brief article on the Hugo awards. Our chapter's not posting over the summer, so you won't be seeing any more of me there until August or September.
However, I've joined in a new enterprise, Queership, a blog dedicated to queer science fiction and fantasy! I'm super excited about joining the staff of Queership. As you can probably tell from some of what I review here, queer SFF is my jam. It's such a wonderful opportunity to be able to write about it with a team of similarly enthusiastic readers.
For Queership, I wrote my first ever fancast. I'm not super good at thinking up which actors are perfect for book characters, but I did my best for Stiefvater's Raven Boys. Me writing this article involved a lot of frantic googling while Phantom Menace played in the background.
I also wrote a listicle for Queership on some queer SFF books with upcoming sequels. There's a lot of good stuff coming out this summer and fall! Keep your eyes out for Raven Stratagem by Yoon Ha Lee, Shattered Minds by Laura Lam, The Harbors of the Sun by Martha Wells, Sovereign by April Daniels, The Ruin of Angels by Max Gladstone, and Not Your Villain by C.B. Lee.
Finally, I had a post on queer stories among the Locus nominees. There's some quite impressive stories to be had.
---
Before I wrap up this wrap up, I want to check in on my reading goals real quickly. For 2017, I want to read 50 LGBTQIAP+ books and 50 books by POC authors. To stay on track with these goals, I need to have 25 books for each category read by the end of June. The queer books are looking like they'll overshoot the goal – I've got 21 read right now and will certainly read at least four in June.
Books with POC authors… I'm not doing so great there. I'm starting to doubt that I'll be able to stay on track with this goal. I've read 16 at the moment and am currently reading another (Persona by Genevieve Valentine). Between my TBR, the library, and buying ebooks, I could probably manage to find eight more books by the end of June. The issue comes down to whether or not I'll fit eight in this month. I think I likely won't. But even if I wind up behind, I can still work on being less behind than I am right now.
That said, if anyone has suggestions for POC authored SFF books, hit me up! I'll be especially grateful if it's one I can find a copy of in the Houston public library.
---
Anyway, those are the books I've read this month and what I'm hoping to get to next month. I hope all of you have happy reading!