I'm thrilled to bring you an interview with Martha Wells, the author of some of my favorite fantasy and science fiction stories. Her novella All Systems Red has just been released, and the last novel in her amazingly imaginative Raksura series comes out this month.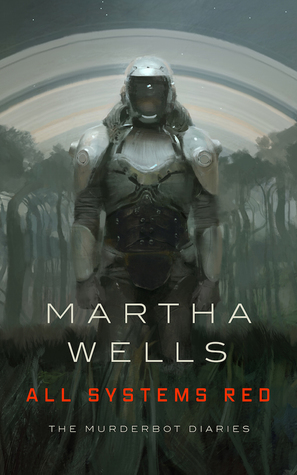 Can you tell us a bit about All Systems Red, your new science fiction novella?
It's about a partially organic android called a SecUnit.  It's rented to clients of what is basically an insurance company to provide security.  It's been able to secretly hack its own governor module, so it is no longer under control by the company or the human clients. The expectation is that a rogue SecUnit like this would go on a murder spree.  Instead, it's been downloading and watching entertainment media.  During a contract on an isolated planet, it's put in a position where protecting its human clients might mean revealing that it isn't under their control anymore.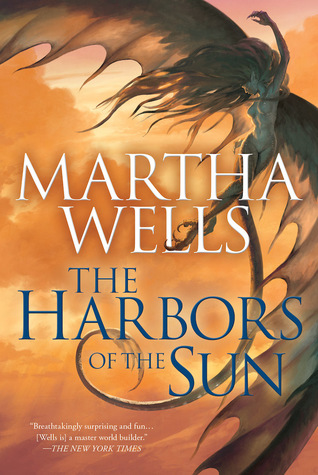 What about the new book in your Raksura series, The Harbors of the Sun?
It's the last book in the series, and ties up the story started in The Edge of Worlds, and provides a conclusion to the whole series story arc with the conflict between the Raksura and the Fell.
 I've always loved the world building in your books. It's so imaginative! I especially love how the Raksuran society subverts our own gender norms. What's been your favorite part about writing the world of the Raksura?
I love world building, and figuring out new places for the characters to explore, and thinking about what their reactions would be.  They're not human, so it takes more thought to decide how they think and feel about things, how their culture would approach things. It's a lot of work, but it's also a lot of fun.
Would you ever consider returning to the world of the Raksura?
Definitely.  It probably wouldn't be about the Indigo Cloud Court, but there are a lot of other characters I'd like to write about.  There are a lot of places in the world I'd like to develop more, and time periods it would be fun to go back to.  The possibilities are limitless so it's a little hard for me to decide what I want to tackle.
Aside from some tie in novels, I believe All Systems Red is your first published science fiction story. Was writing science fiction a different experience from your fantasy work?
It's not that different, but it is a lot of fun to write about a world that has entertainment media the way ours does.  And it's fun to play with ideas about what their technology would be like, what kinds of things they would be able to do.
I've been steadily working my way through your backlist books. Which of these would you be most likely to recommend to a new reader?
I think it depends a lot on what kind of books they like.  The Death of the Necromancer is more of a fantasy/mystery, set in a world closer to a Victorian/la Belle Epoque time period.  Wheel of the Infinite, City of Bones, The Cloud Roads and the other Raksura books are all more original created/secondary worlds, and I think they take a more SF-like approach to fantasy world building.
What are some fantasy and science fiction books you would recommend to fans of your work?
I really love Kate Elliott's Court of Fives trilogy and can't wait for the next book.  And N.K. Jemisin's The Fifth Season and the sequel The Obelisk Gate.  I also loved Yoon Ha Lee's Ninefox Gambit, Nicky Drayden's The Prey of Gods,  Nnedi Okorafor's Binti novellas, and Kai Ashante Wilson's novellas.  I'm really looking forward to Jessica Reisman's Substrate Phantoms. There's so many great new books coming out now, it's very exciting.
Do you have any current writing projects?
Right now I'm working on a fourth Murderbot Diaries novella, and trying to decide what to write next.
---
About the Author
Martha Wells has written many fantasy novels, including the Books of the Raksura series (beginning with The Cloud Roads), the Ile-Rien series (including the Nebula-nominated The Death of the Necromancer) as well as YA fantasy novels, short stories, media tie-ins, and non-fiction. Her most recent fantasy novels are The Edge of Worlds in 2016 and The Harbors of the Sun forthcoming in July 2017, the end of the Books of the Raksura series. She will also have two new SF novellas, The Murderbot Diaries series, forthcoming from Tor.com in 2017. Her books have been published in eight languages.