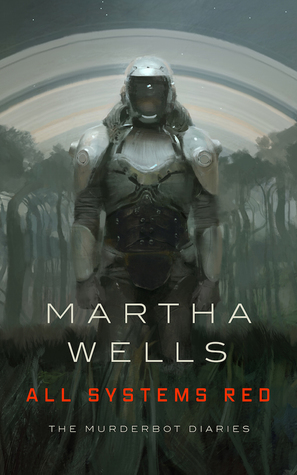 All Systems Red by Martha Wells. ★★★★1/2
All Systems Red was truly a delight. A snarky robot with a TV addiction? Who can resist that!
All planetary missions must be supplied by the Company and they must rent a Company supplied SecUnit, an android security guard. The narrator of All Systems Red is one such SecUnit, but it has hacked into the governor module and is now secretly autonomous. It refers to itself as Murderbot, and it really doesn't care about it's job — guarding a team of scientists on a remote planet where there shouldn't be problems anyway. Murderbot much prefers to hack into a satellite and gain access to 35,000 hours of entertainment media. This works out perfectly fine for Murderbot until a neighboring mission goes dark and their own humans may be in danger.
The plot is not what's important about All Systems Red. Instead, this science fiction novella focuses on the inner life of it's protagonist and narrator, Murderbot. I know what you're thinking: this is probably one of those robot stories where there's a lot of angst and questioning about the nature of humanity. All Systems Red isn't like that. There's absolutely zero angst, and Murderbot finds humans awkward and slightly annoying. It says it likes fictional humans better than real humans, which is entirely relatable.
Murderbot's voice was far and away the best thing about All Systems Red. It's hilarious! I was seriously laughing out loud while reading this. Robots with feelings are the best sort of robots, even if in this case our robot narrator is anti-social and largely apathetic. Although, Murderbot may be a bit less apathetic than it seems. While it professes to be horrified by the humans clumsy attempts to befriend it, it does seem to care about them beneath it all. As well as being astonishingly funny, it's also quite heart warming.
I loved All Systems Red so much. It will undoubtedly end up being one of the best science fiction stories I read all year. Thank goodness Martha Wells is writing a sequel! I desperately need more.