Welcome to my monthly recap for April. I'll be going over the books I didn't finish, listing my reviews and posts from this month, and giving a hint of what you can expect from May.
The first of them is The Thorn of Dentonhill by Marshall Ryan Maresca. I read roughly two hundred pages, but then I realized that I was just counting down pages until the end instead of enjoying the journey. The Thorn of Dentonhill combines medieval fantasy with the superhero genre. It's basically a superhero plot in a fantasy setting. Unfortunately, I found it a little by the numbers. There was nothing driving me to keep reading. The only hooks were if the protagonist would be successful in his revenge quest against a drug king and what a circle of mages wanted with some magic items. The latter had the potential to be interesting, but it was receiving almost no narrative attention. Basically, there was nothing to keep me reading.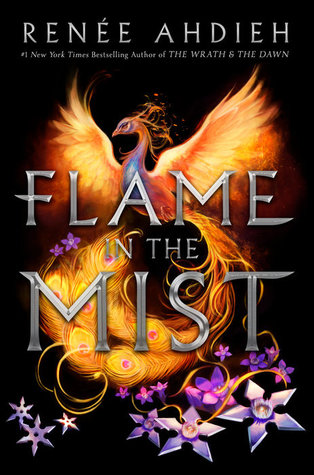 I'd been hearing about Renee Ahdieh's work in YA fantasy but had been hesitating because I thought it might be too romance focused for me. Regardless, I decided to give it a go by requesting an ARC of Flame in the Mist. My initial hunch was right. I was originally going to stick with it regardless, but after complaining about the lack of interaction between female characters on Twitter, fellow book bloggers suggested I quit. I decided they're right. Life is too short to read books that are making me unhappy.
I have no idea where I heard about Jennifer Fallon's Wolfblade from. As far as I can tell, none of the book bloggers I follow have reviewed it. Most likely I found it when I was looking for more epic fantasy series written by women. Anyway, I read Part One, which is about the first hundred pages of the book. I don't think Wolfblade is badly written, but I just wasn't finding it compelling. I've seen a lot of patriarchal, Medieval Europe based high fantasy, so that sort of book really has its work cut out to impress me.
---
As it gets towards the end of the semester, I've become increasingly busy and stressed with schoolwork. Thus, reviews are not getting written at their usual pace. So far for May, all I have written and scheduled is The Guns Above by Robyn Bennis, Wicked Wonders by Ellen Klages, The Screaming Staircase by Jonathan Stroud, and an interview with a surprise author. After that, I'm going to take a break to get through exams, pack up my dorm room, and move back to Houston for the summer. Once I get back home I should have the chance to catch up on reviews.
I'm currently working on reviews of King's Dragon by Kate Elliott, The Shining Girls by Lauren Beukes, Snapshot and Skin Deep by Brandon Sanderson, This Savage Song by Victoria Schwab, The Dispatcher by John Scalzi, The Innkeeper Chronicles by Ilona Andrews, and Raven Stratagem by Yoon Ha Lee. You should see most of these during May, but I may leave Raven Stratagem until closer to its release date in June.
As for what books I'm going to be reading in May… I don't have any strong ideas. There's some ARCs I need to catch up on including Sovereign by April Daniels, All Good Things by Emma Newman, Harbors of the Sun by Martha Wells and Willow Born by Shanna Miles. I also intend to finally read Mishell Baker's Phantom Pains. Otherwise it will probably alternate between library books and books from my TBR pile. I might also do a book buying splurge and get some used books off Amazon. I really want to finish Michelle West's Sun Sword series this summer, and King's Dragon convinced me I want to read more of that series. If past summers are any guide, I should be doing a lot of reading!
---
Reviews from April:
5 stars:
The Hate U Give by Angie Thomas
4 stars:
The Edge of the Abyss by Emily Skrutskie
A Tyranny of Queens by Foz Meadows
This Other World by A.C. Buchanan
Keeper of the Dawn by Dianna Gunn
Windswept by Adam Rakunas
3 1/2 stars:
A Shadow in Summer by Daniel Abraham
Mask of Shadows by Linsey Miller
City of Miracles by Robert Jackson Bennett
The Root by Na'amen Gobert Tilahun
The Girl from Everywhere by Heidi Heilig
Hidden Warrior by Lynn Flewelling
3 stars:
Final Girls by Mira Grant
The Last Witness by K.J. Parker
Fire Boy by Sami Shah
Fourth World by Lyssa Chiavari
---
As has become usual, I've got some non-review posts as well. Here on the Illustrated Page, I've had author interviews with RoAnna Sylver, Erica Cameron, Dianna Gunn and Sarah Gailey. Doing more interviews has been super fun, and I hope to continue the trend!
My other non-review post here on The Illustrated Page was a round up of some of the science fiction and fantasy short stories I read this month.
I've continued to write for my college's Her Campus chapter. Next semester I'm going to be editing for them, so these posts won't be going away anytime soon!
"10 Mind-Blowing Fantasy Books by People of Color" – this one's basically just a list post, but it has some of my favorite fantasy books on it.
"6 Things Watching Avatar: The Last Airbender Taught Us" – my friend (and Her Campus chief editor) MeaResa has been watching Avatar for the first time. She's finished Last Airbender and is currently working on Korra. This post is a collaboration where we both talk about some of the reasons Avatar is significant to us. We may do another of these posts once MeaResa finishes LOK.
"Coolest Stories from History 343: Abelard and Heloise" – so far my favorite college class has been History 343: Love, Marriage, and Family in Premodern Europe. It was both educational and entertaining, and I know I'll treasure my memories of it. I've decided to write a series of Her Campus pieces about some of my favorite things I learned in the class. This one's on Abelard and Heloise, famous star crossed lovers who I don't find at all romantic. I may also write future pieces about bawdy Renaissance tales touching on homosexuality and polyamory and my final paper, which the elevator pitch for was "historical cross-dressing lesbians."
"Meet the Delightful Makaila Powe, '19" – all Her Campus chapters do these "profile" pieces where they interview a student from their college. I took the easy way out for my first profile and interviewed my roommate, Makaila. I may or may not have done it the day it was due. All right, I totally did.
Her Campus posts will be disappearing for the summer, since we only write when school's in session. However, I'm joining the team over at Queership, a new blog for queer SFF, you'll be seeing posts for that this summer.
---
That's about it for April. Are there any books you think I need to read come May? What about books your looking forward to?