I am thrilled to bring you an interview with Sarah Gailey, the author of numerous short stories and the soon to be released novella River of Teeth! Join us as we talk about alternate history, SFF costumes, and, of course, hippos.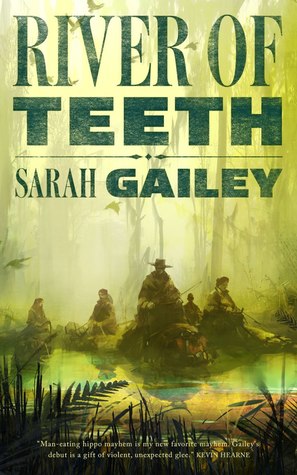 Can you tell us a little about your upcoming novella, River of Teeth?
River of Teeth is the first novella in a duology. It features Cowboys riding hippos and trying to blow up the Mississippi River.

Here's the premise: in the early 20th Century, America seriously considered importing hippos (which are some of the most dangerous, violent creatures on earth) as a meat product. River of Teeth is an action-packed close-up vision of the America that could have been. It's got everything: bloodshed, fashion, explosions, a diverse cast — and, of course, hippos.
On the subject of alternate history, what's your favorite alternate history story?
Although steampunk can be contentious for some alt-history enthusiasts, I am absolutely in love with Elizabeth Bear's Karen Memory. It's beautifully written and brings me immense joy, which is rare in our current era of grimdark. I also shamelessly enjoy Man in the High Castle.
What's the most interesting thing you learned while writing River of Teeth?
This is the most interesting thing I can tell you that isn't a spoiler. In River of Teeth, there are some BIG explosions. I needed to find an explosive that was around in the late 1800's that was more powerful than dynamite. Fortunately, like any good writer, I happen to have a close relationship with an explosives expert. I talked to her about the history of her craft, and she sent me a few different options for explosives that the River of Teeth crew might have used. One of these was Triacetone Triperoxide – also known as the Mother of Satan. Needless to say, that's the explosive I decided to use in the book.
Which of your short stories would you be most likely to recommend to readers unfamiliar with your work?
I can't tell you how happy I am that you asked this question. I would point my readers to the two stories I've had published in Fireside Fiction: Haunted and Homesick. I think that they're the two best pieces of short fiction I've written, and I think that they're the most personal things I've had published.
Haunted is the story of a house that's inhabited by a mournful ghost; it explores abuse, trauma, and the things from our past that hold us back. Galen Dara made some amazing art for that piece — I have a print of that art hanging behind my desk in my office, and I have to say I've never seen an illustration that better paints what it's like to live with post-traumatic stress disorder and the aftereffects of an abusive relationship.
Homesick is the story of the last woman on Earth. It takes place in the time after she comes to the planet to which humanity has migrated, and it asks the question: what would you do if you decided you wanted to go back? It started based on a very silly prompt from a friend ("write a story using crabs and fortune-telling") and turned into something that looks at the way humans carry darkness with us wherever we go.
I've been enjoying your series on costumes in science fiction and fantasy over on Tor.com. What's your favorite genre costume?
Oh my gosh, that's a hard question. As a costumer, there's nothing more fun for me than dressing a character who is intentionally sending a message with their clothing, because you get to work in two layers: what is this character trying to say, and what is true about them that they might be trying to hide? So, my favorite individual costume is probably Jessica Rabbit's dress in Who Framed Roger Rabbit. It's a dress that demands attention while simultaneously instructing the viewer not to look too closely at the person wearing it. If you look at stills of Jessica Rabbit, her character looks vulnerable but also somehow bulletproof; powerful in her exposure. She's the quintessential vamp, the perfect femme fatale by design — and her dress communicates all of that to the audience.
If I'm going for pure costume-joy without meaning… I love everything Padme Amidala wears. I discussed her heavily in my first piece on costuming, and a lot of people took my assessment of her costumes as essentially meaningless as an insult to the character, but actually, I love her costuming with all my heart. It's full of internally complex references, and it's a testament to what happens when you set an amazing costumer loose on a character. The costumes don't tell you anything about the character (other than "she wears over-the-top-clothes"), but each piece is a love letter to costuming and fashion history.
What's your number one piece of advice for aspiring authors?
Write for yourself. It's the best piece of advice I've ever gotten, and I want to pass it on forever. That doesn't mean you should write characters who are like you, or characters who look like you — it means that you should write things that you want to read, or that you would benefit from reading. If you're passionate about what you're writing, and if it makes you happy to write it, your writers can tell — the feeling comes through in the text. So, try to stop worrying about whether other people will like what you write. If you like it, and you feel strongly about it, you'll have more energy to put into your work, and it'll show through in really good ways.
Do you have any current writing projects? Are there any releases beyond River of Teeth that we should be watching out for?
I was recently fortunate enough to close a 3-book deal with Tor Books! My first novel will come out in Spring 2019; it follows the story of a detective without magical powers who is pulled into a murder investigation at a secret school for young mages. It's The Magicians meets Tana French, and it explores sisterhood and loss and friendship in ways I'm really excited to share with the world.
---
About the Author
Hugo and Campbell award finalist Sarah Gailey is an internationally-published writer of fiction and nonfiction. Her nonfiction has been published by Mashable and the Boston Globe, and she is a regular contributor for Tor.com and Barnes & Noble. Her most recent fiction credits include Mothership Zeta, Fireside Fiction, and the Speculative Bookshop Anthology. Her debut novella, River of Teeth, comes out in May 2017. She has a novel forthcoming from Tor Books in Spring 2019. Gailey lives in beautiful Oakland, California with her husband and two scrappy dogs. You can find links to her work at www.sarahgailey.com; find her on social media @gaileyfrey.