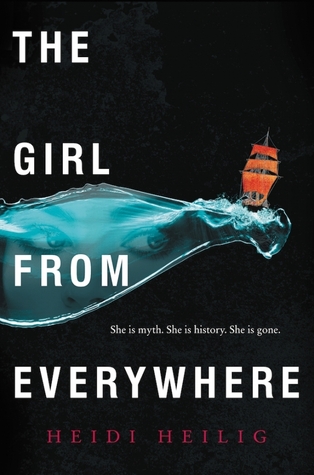 The Girl from Everywhere by Heidi Heilig. ★★★1/2
The Girl from Everywhere contains one of the most original time travel methods I've ever seen. More than that, it's simply a beautiful book.
Nix has grown up on her father's ship, traveling from one place and time to another. Their travel depends on hand drawn maps from the original time period, each of which can only be used once. Her father wants nothing more than to find a map which can take him back to 1868 Honolulu and Nix's mother before she dies in childbirth. He wants to save her and rewrite history… even if it means rewriting Nix. What will happen to her if her father get's his heart's desire?
While The Girl from Everywhere obviously takes place in many locations and time periods, the majority of it is set in 1884 Honolulu. For the first time, Nix has returned to her native time and is discovering the place where her mother grew up.
But Nix doesn't want to stay settled in one place and time – she wants a ship of her own and the ability to navigate the waters of time. She just needs to convince her father to teach her how. Unfortunately, I never got much of a sense of Nix beyond this goal. Her motivation was stated, but I never really felt it. She's just not a memorable character. In fact, I'd say none of the cast of The Girl from Everywhere really jumped out at me.
Like many other YA books, The Girl from Everywhere includes a love triangle. While I found both of her love interests rather bland, I didn't dislike them either. At least they weren't the bad boy types YA seems obsessed with – they were never abusive or controlling. The love triangle was boring, but it could have been worse.
It did feel like all of Nix's significant relationships were with men. Her father and her two male love interests were her most important relationships. She only interacted with two female characters – one of the sailors on her father's ship and an old woman who knew her mother. Perhaps I shouldn't be surprised – this is the norm for most books I've read, it's just not the type of story I prefer.
There was something that struck me as odd about The Girl from Everywhere. So much of the book is about Hawaii losing it's independence, and the native Hawaiian population being colonized by white Americans. Native Hawaiian culture elements end up playing a significant role in the story. Yet I don't think there were even any native Hawaiian characters with speaking lines. It just strikes me as really strange.
Besides it's great concept of time travel, the best thing about The Girl from Everywhere was the pacing. It got me staying up way later than I'd intended! I definitely enjoyed reading this book, but I'm not sure it's one I'd reread. Still, I am interested in getting a hold of the sequel.