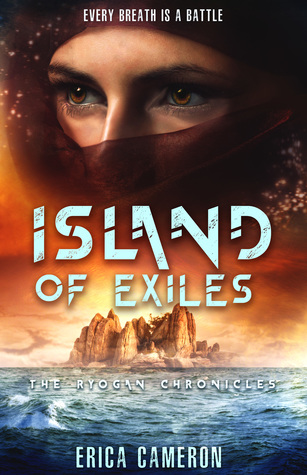 Island of Exiles by Erica Cameron. ★★★★
Island of Exiles is a survival focused YA fantasy novel that may appeal to fans of The Hunger Games.
The desert island of Shiara is a harsh world where allegiance to the clan means all. Khya, a young warrior, has ambitions to the council that helps the immortal elders rule the clan. Only one thing can rival Khya's loyalty to the clan… her loyalty to her younger brother. So when her brother is endangered, Khya faces a choice that will reshape everything she knows about her world.
When I first saw the summary for Island of Exiles, I thought it was a story I'd read before. Warrior girl, survival, younger sibling as motivation, mysterious male love interest she's not sure she can trust, the rules of society are a lie… there were a lot of elements that I'd encountered in other YA novels. And while Island of Exiles did follow some YA tropes, I thought it was one of the best executed examples I read. Plus, the world building is far and above what I've encountered in most YA fantasy books.
I loved how casual inclusion of queer characters was built into the world, including nonbinary and asexual characters. Khya herself is bisexual or pansexual, it's never presented as a big deal or even particularly noteworthy. Her society includes three different genders, and neopronouns are used regularly throughout the book. The only thing I wasn't clear about is if ebet (the third gender) is something assigned at birth, maybe to intersex individuals, and how the society deals with people who's identity doesn't match what they were assigned.
Khya's clan lives in a city that's partly located underground, a necessity to survive the harsh environment of Shiara. The clan is also extremely hierarchical. Everyone is placed into a caste group partly based on magical ability that will determine the shape of their lives. The naming system felt Japanese influenced, although I could likely be wrong. Regardless, I definitely read the cast as being entirely non-white, so ignore the white chick on the cover. There was also a wonderful backstory to the entire society. I adored it, but I'm going to let you discover it for yourself, so let's move on to other matters.
While I loved the world building, I did find the heavy usage of conlang difficult. There was a glossary at the back, but I find those awkward to use for ebook reading. If you have a low threshold for fantasy words and constructed language, this is not the book for you. I'm used to dealing with fantasy words, and I found it challenging!
One of the most important aspects of a book is always the protagonist. I don't think Khya's making my list of all time favorite characters or anything, but I did like reading about her. Well written, tough as nails warrior girls are likely to be a win for me. It didn't hurt that Khya also felt like a product of her society. She read like someone who actually grew up in Shiara and its culture, not a modern teen inserted into a fantasy world.
Although Island of Exiles does have some formulaic aspects, I still liked it a lot. It's fast paced, got lots of action, a badass female lead, and some great world building. It easily fulfills my criteria for a fun read, and I wouldn't hesitate to recommend it.
I received an ARC of Island of Exiles from the publisher through Netgalley in exchange for a free and honest review.