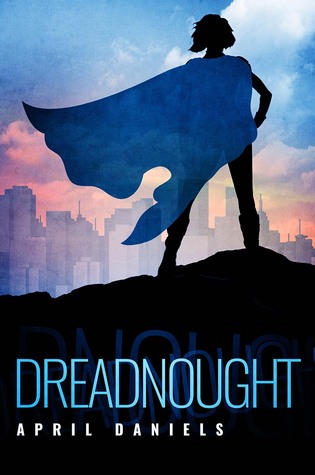 Dreadnought by April Daniels. ★★★1/2
Trigger warning: Transphobia, emotional abuse
Dreadnought is an #OwnVoices YA superhero novel about a  young lesbian trans girl.
Fifteen-year old Danny Tozer is secretly painting her toenails behind the mall when two meta-humans get in a fight right in front of her. Thus she's the only person around when Dreadnought, the greatest superhero of them all dies… and so she receives his powers. But not only does she get superpowers, her body also transforms into the one she's always wanted. Now everyone knows that she's a girl. Unfortunately, this includes her emotionally abusive father, who's always tried to make her into a "manly man." Oh, and the super-villain who killed Dreadnought is still running around. Danny's life just got complicated.
Dreadnought was a lot darker than I expected. After her superpowered transition, Danny faces a ton of transmisogyny. For one, her best friend now feels entitled to date her even as he's being creepy. For another, her parents are just awful. She's got all these self esteem issues as a result of her father, who's constantly berating her. But there's even another character who gives him a run for Worst Ever! There's this TERF super-heroine who is just the worst. Like I don't know if I have ever hated a character that much. Danny just goes through so much, including having all sorts of awful slurs hurled at her. There were parts I had trouble reading, and I'm cis.
But Danny was probably my favorite part of the book. Even as she's dealing with people being despicable to her, she still manages to come into her own and save the day. A lot of the time she's uncertain, and she's just learning how to believe in herself. I adored her growth in Dreadnought. I also appreciated her friendships with two other female characters, Doctor Impossible and Calamity, who I both liked a lot.
On the flip side, Danny does seem to have accepted a lot of sexist norms. She looks like a supermodel after her transformation, but then she thinks she has to start worrying about her weight. Sometimes it feels like these things are being challenged (particularly regarding body image), but I'm not sure how successful this is in all regards.
The world building wasn't great. In particular, there's some info dumping at the beginning regarding Dreadnought and the history of superpowered people in the world that felt very clunky. The world building also had the feel of "everything in the kitchen sink" regarding superhero tropes and story elements. Honestly, I don't expect superhero books to have fantastic world building since they tend to be building off of messy comic book universes. However, Danny's world could have been better conveyed and I think it played into why the tone of the book felt so weird.
On one hand, you have the plot line and the world building, which both suggest fun and fluff. They're not super serious, and they feel more like an MCU movie than one of DC's darker films. On the other hand, you've got Danny's personal life which is almost overwhelmingly dark. As a result, the overall tone feels really mismatched and off.
I liked Danny enough that I will probably read the next book in the series, although I don't think I will give it high priority. I don't know if I would universally recommend Dreadnought given some of what it deals with. If you're already dealing with transphobia or emotionally abusive parents, this may be too much for you. On the other hand, maybe it's empowering to see someone else overcoming it. So I recommend Dreadnought but with a caveat – it's not all superpowered fun.
I received an ARC of Dreadnought from the publisher via Netgalley in exchange for a free and honest review.