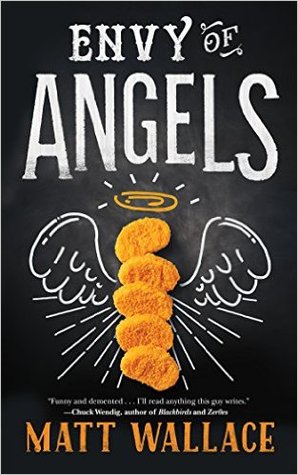 Envy of Angels by Matt Wallace. ★★★
Lena and Darren are two down on their luck chefs who've been blackballed from most New York establishment. They are contemplating – horror of horrors – moving to Jersey when they get an unexpected job offer from a catering company they've never heard of. As they soon discover, Sin du Jour is no ordinary catering company. It's clientele are the supernatural denizens of New York.
Envy of Angels is the start to a series of novellas. And for better or worse, there's a lot packed into this little novella. From warring demonic gangs to a heist at an iconic fast food company headquarters, Envy of Angels has it all.
However, the sheer amount of plot lines and the breadth of the cast meant that character development felt scanty. There are so many characters in this novella, but none of them are memorable. It might have worked better for me if it had narrowed the focus and expanded the development of a core cast.
Envy of Angels is one of the more imaginative urban fantasy ideas I've encountered. I did enjoy the time I spent reading it, but I don't think I would ever reread it. I may or may not pick up the sequels. While I liked the central idea, I wished I liked the characters more.