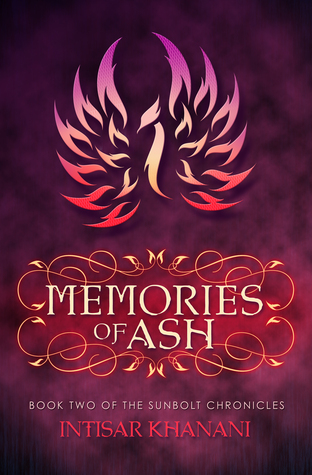 Memories of Ash by Intisar Khanani. ★★★★
Memories of Ash is a full, novel length sequel to the YA fantasy novella Sunbolt. In my review of Sunbolt, I noted that I was waiting to see where the sequels would take the series. Well it was worth the wait! Memories of Ash was even better than the first installment. It's so much of what I want in a fantasy novel – a focus on adventure rather than romance, amazing world building, and a clever and kindhearted heroine.
While I suggest reading Sunbolt before Memories of Ash, you might be able to go into it without having read the novella. But why would you? Sunbolt is a lot of fun. Anyway, it was over two years since I'd read Sunbolt, and I didn't find myself getting confused. Do note that there will be spoilers for the novella in the rest of this review.
Hitomi has spent the last year recovering her memories and learning magic under the tutelage of Brigit Stormwind. But then the High Council of Mages summons Stormwind to a trial, where she is accused of treason. The devious Arch Mage Blackflame is behind the trumped up charges, and Hitomi fears that Stormwind won't return. As a result, she sets out on a mission to save her friend and mentor.
I really loved the world building of Memories of Ash. We get to see a lot more of the world than we did in Sunbolt, and the story takes us to a desert city. Khanani has a knack for making her settings come alive, and there's plenty of details that make her world feel unique and real. It also isn't the Ye Old Medieval Europe type setting which you tend to see ad nauseam. Hitomi herself is mixed race, from cultures that seem analogous to Japan and somewhere in the Middle East. I also love the way magic is described in this book. It has an almost visual feel which strongly appeals to me.
Hitomi is a delightful protagonist. She's a fledgling mage with some unusual capabilities that combine wonderfully with the tricks she picked up while living as a street thief and working in the resistance effort to Arch Mage Blackthorn. I have a fondness for rogue type characters, and Hitomi did not disappoint. She's courageous, smart, and most of all, kind. She has a real moral backbone, and she's determined to do what she believes is right, no matter the difficulty. In a word, she's the best kind of heroine.
Memories of Ash was sheer fun. I highly recommend it for anyone who likes YA fantasy, and am eagerly awaiting whatever Ms. Khanani writes next.