I've come across the #DiversityDecBingo challenge and I have some suggestions for anyone else looking to participate! Also, there's several categories where I could use some help, and I would welcome some suggestions from everyone else.
Non-Western Cultural Fantasy 
Non-Binary Main Character
Refugee Main Character
I actually don't think any of the books I've read qualifies for this one. Does anyone have any suggestions? Preferably something that falls under fantasy or science fiction?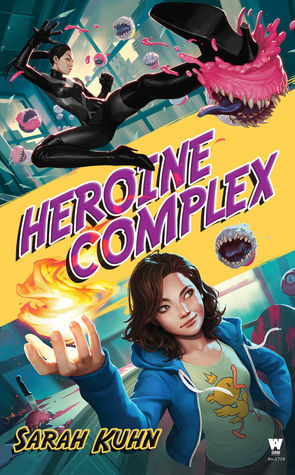 POC Superheroes
Chronic Pain Sufferers 
Six of Crows by Leigh Bardugo
I've actually not been doing so great at finding SFF books with disabled main characters in general. Or at least books where the magic doesn't end up "curing" them. Anyone have any suggestions?
Demisexual Main Character
Stranger by Rachel Manija Brown and Sherwood Smith
There's generally a shortage of books with ace spectrum protagonists, so this specific identity is sorely lacking in representation. Again, suggestions are appreciated.
Muslim Main Character
Trans Main Character
I haven't gotten to it yet, but I've heard good things about Chameleon Moon by RoAnna Sylver.
Diverse Non-fiction 
I'm skipping over this category since I'm not great about actually reading non-fiction. Besides this book blog has always been unabashedly SFF focused. But I do want to give a shout out to Funny in Farsi!
POC or Interracial M/M
This is another category where I could do a lot better in. I tend to read more f/f than m/m, so the only qualifying book I think I've actually read for this is The Sorcerer of the Wildeeps by Kai Ashante Wilson. Anyone got any suggestions for POC m/m SFF? Especially if it's more adventure oriented than romance oriented?
Mental Health Awareness 
This is another category I would love suggestions for.
Asian Main Character
Own Voices
Non-Western (Real World) Setting
POC on Book Covers
I think the majority of covers I'm showing here have POC on them. I can't think of anything that would be in this category but none of the others, so I'll skip over it.
POC with Natural Hair
Disabled Main Character
Again, if you know of any SFF books with disabled main characters, please comment!
SFF with an LGBTQIA+ Main Character
Pansexual Main Character
I don't think I've ever read a book with any character who has on page identified themselves as pansexual. I know Leigh Bardugo said that Jasper from Six of Crows was pan, but I don't remember how that was expressed in the book…. anyone got suggestions?
Indigenous Main Character
F/F Romance
Biracial Main Character
Neurodiversity
I would love some more suggestions of books with a neurodivergent protagonist!
Asexual or Aromantic Main Character
I'd love to participate in this challenge! Based on the books in my TBR, I could go diagonal from the top left to the bottom right if I find a book with a Muslim main character. As far as I know, I don't have any qualifying books on my radar. If nothing else, this will be a chance to research possible new titles for my ever growing list of books to read.
As I've said before, all book recommendations are highly appreciated!