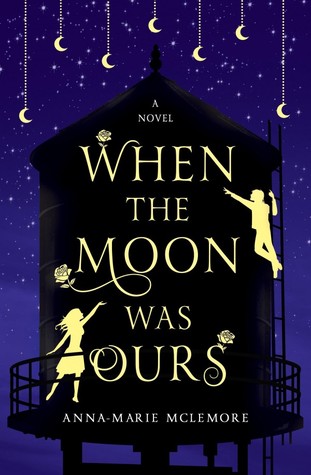 When the Moon Was Ours by Anna-Marie McLemore. ★★★1/2
When the Moon Was Ours is a beautifully written magical realism story about two best friends who fall in love – Sam, a transgender boy, and Miel, a girl who grows roses from her wrists.
Everyone in town knows to be wary of the Bonner sisters, four red headed girls that the town whispers are witches. They can make any man in town fall in love with them, but when they worry that their power is fading they see Miel's roses as a solution. And they will stop at nothing to get what they want.
So about half way through When the Moon Was Ours, I realized that the romance was the main plot. Unfortunately, I'm not a romance reader. I don't usually care about romance plots or subplots, and that was the case for When the Moon Was Ours. While I wished I loved this book as much as everyone else seems to, I just don't think it was the right kind of book for me.
While When the Moon Was Ours has clear magical elements, their ambiguous and unexplained nature pushes them more towards magical realism than fantasy. I also tend not to read magical realism, preferring straight up fantasy.
When the Moon Was Ours was very prettily written but at times felt too flowery for me. It also felt sort of messy structurally, but that could be just because I'm not used to the pacing of romance based works. It felt like it was taking me forever to read even though it's less than three hundred pages.
By far my favorite thing about When the Moon Was Ours was the diversity. There is a clear lack of trans protagonists in pretty much every medium, and I loved that When the Moon Was Ours helped fill in the gap. The story was clearly personal to the author – in the afterwards she talked about how the book drew on her own life, including her Latina heritage and her marriage to a transman.
I also loved some of the imagery When the Moon Was Ours contained. The field of pumpkins turning to glass, the coffin in the woods, the strange girl arriving out of the spill of a water tower… The descriptions of the Bonner sisters were enchanting as well, and I liked that they were given some complexity as antagonists.
While When the Moon Was Ours turned out not to be my sort of story line or subgenre, I am sure that there's other people out there who would like it. I would definitely suggest it to people who are greater fans of magical realism or romance and to anyone looking for a trans protagonist.