It seems like anti-heroes are more popular than ever, but how many anti-heroines can you think of? In her article "On the Subject of Unlikable Female Protagonists," S.L. Huang looks at some related TV tropes and finds that only 13% of the listed examples are female.
I love anti-heroines. I love female protagonists who are complicated and messy and not always good or nice. I've decided to share the love by going through some of my favorite anti-heroic female protagonists in science fiction and fantasy literature.
Nyxnissa so Dasheem from Kameron Hurley's God's War. 
When I think of antiheroines, Nyx is the example that immediately springs to mind. She's probably my all time favorite antiheroine. A former government assassin, Nyx now works as a mercenary and bounty hunter. But Nyx can survive anything the harsh world of Umayma can throw at her, and as much as they might hate her, the other characters usually end up realizing that they need her. Nyx is complicated, morally ambiguous, and one of the most compelling characters I've ever encountered.
Essun from N.K. Jemisin's The Fifth Season.
Essun is a woman who has lived a life of unspeakable horror, and it has not left her unchanged. By the time the world begins to end – for the last time – Essun cares about only one thing: finding her daughter, and she will ruthlessly kill anyone who gets in her way. She's emotionally closed off and has the feel of a woman set adrift. She's a key element in one of the most spectacular fantasy novels I've ever read.
Millie Roper from Mishell Baker's Borderline.
Before the start of Borderline, Millie tries to kill herself by jumping off a building. She survives but loses both her legs and winds up in a mental hospital. She has Borderline Personality Disorder, and she's prone to sudden mood swings and to lashing out at the people around her in sudden fits of rage. She's paranoid and caustic and one of the best protagonists I've ever encountered in urban fantasy.
Cas Russell from S.L. Huang's Zero Sum Game. 
Cas has mathematical superpowers and she uses them to make herself the best mercenary in the LA area. She'll perform whatever morally dubious job she's hired for, killing anyone in her way. But as the series goes on Cas begins to form friendships and to start on a somewhat uneven journey of trying to be a better person. She has no idea how, but she's decided to try. And it's made her one of the most developed antiheroines I've ever read.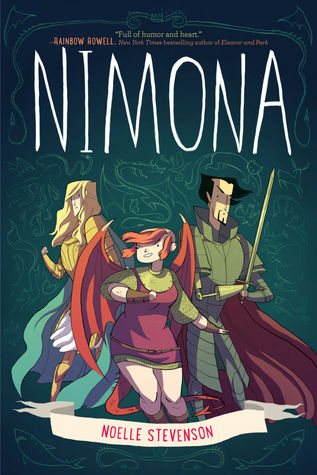 Nimona from Noelle Stevenson's Nimona.
Nimona may not be the main character of this graphic novel, but she is the character around which the story revolves. She's a monstrous little girl with a penchant for shapeshifting who becomes the sidekick of notorious villain, Lord Ballister Blackheart.  She's chaotic and fierce, and while her story may be over, I wish I could see more of her in the future.
Reiko from Lindsay Smith's A Darkly Beating Heart
Reiko is consumed with hatred. She sees herself as having been grievously wronged by the people around her, and she's determined to get vengeance. Over the course of the book, it's gradually revealed that Reiko's been leaving out some key information to make herself look like the innocent victim of other's manipulations (notably her ex-girlfriend). Reiko may not be a very likable person, but she was a fascinating narrator.
While I'm going to keep this post at six characters, there were a few others that sprang to mind. Would Attolia from The Queen of Attolia count as an antiheroine? Would Wasp from Archivist Wasp? I don't think they're as clear cut examples as anyone I put on this list, they're both really compelling characters who fall into anti-heroic territory.
What are some of the best anti-heroines you've encountered in science fiction and fantasy?