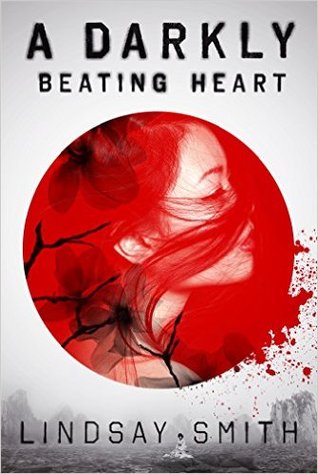 A Darkly Beating Heart by Lindsay Smith. ★★★★
Trigger warning: self harm, suicide 
Reiko is carving a path of hatred. After a stint in a psychiatric hospital, Reiko's been sent to stay with relatives in Japan and work on her emotional issues. But Reiko is still consumed with hatred and anger for all those who she perceives as having wronged her – her ex-girlfriend, her brother, and her cousin who's forcing Reiko and the other employees at her uncle's graphic design firm to help her build a lifestyle brand.
When Reiko's cousin Akiko decides the next step in building her brand is a culture festival at a historic village preserved to reflect the Edo period, Reiko is dragged along as a photographer. But she soon finds herself slipping backwards in time, into the life of Miyu, a young woman who shares Reiko's obsession with vengeance.
By far my favorite thing about A Darkly Beating Heart is Reiko. She's a dark, angry anti-heroine with lots of sharp edges. The full story of what led her to come to Japan is slow in the unveiling, and Reiko twists it to fit her own narrative of herself being the innocent victim of other's manipulations. She's possibly my favorite anti-heroine who I've encountered in a YA novel. While she's not a likable person, I think we need more female protagonists who get to be dark, unlikable, and complicated.
The time travel aspect is more paranormal than science fiction or fantasy. It works mainly as a vehicle for Reiko to become subsumed into Miyu's life and to undergo some character development. The fantastical elements were overall on the low side.
I'm also glad that A Darkly Beating Heart chose to explore mental health issues, but the portrayal seemed off when it came to meds. For one thing, there's a scene where Reiko dumps all her pills down the toilet…. and she doesn't get any side effects from suddenly going cold turkey on her medication! This is absolutely not the experience I've had with being on anti-depressants. In general A Darkly Beating Heart seemed to have a negative opinion on medication, which is something else I wouldn't agree with given my own experiences.
I don't have enough experience to say how well Smith handles Japanese culture, but reviewers of Japanese heritage seem to have positive things to say about it. I haven't yet seen a review from someone of Japanese heritage raised in Japan, so opinions may vary.
Does a time traveling story about a hateful and vengeance obsessed bisexual Japanese-American girl in Japan sound appealing? If so, you should read A Darkly Beating Heart. I for one found it to be even better than I'd expected.
I received an ARC of A Darkly Beating Heart from the publisher via Netgalley in exchange for an honest review.