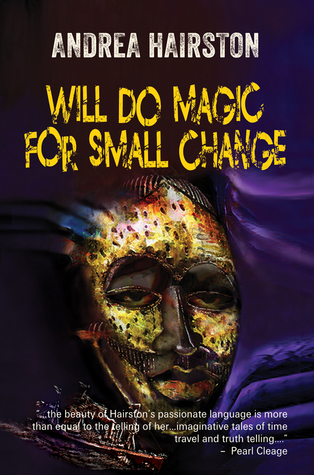 Will Do Magic for Small Change by Andrea Hairston. ★★★1/2
Will Do Magic for Small Change feels like Octavia Butler crossed with Charles de Lint. It mixes genres, with aliens and magic, and explores themes such as race, gender, sexuality, and family history. It's one of the most original SFF novels I've read in years.
Will Do Magic for Small Change opens with Cinnamon Jones, a black girl in 1980's Philadelphia, attending her half-brother's funeral. Her brother left her a book written by an alien wanderer from another dimension who appeared in West Africa during the 1890's. The wanderer's story is not complete and more sections continue to appear as the course of Cinnamon's teen years. Eventually, Cinnamon realizes that the wanderer's story has some mysterious connections to her own family history.
My expectation was that I would enjoy the alien's story more than Cinnamon's, but the reverse was true. Cinnamon aspires to be an actress, but the theater is a difficult place for a large, dark skinned black girl. It does provide the opportunity of friendship with two other teenagers, and the three of them become caught up in the mysteries of the Chronicle.
That said, I never skipped over the other sections relating to the wanderer (Taiwo), who gets caught up in the life of a warrior woman of Dahomey, Kehinde, who is searching for her dead brother's wife and an escape from her own past. New sections of Taiwo and Kehinde's story appear as the wanderer remembers them, but they've fragmented and lost many portions of their own history
Gender and sexual fluidity are at the heart of Will Do Magic for Small Change. Cinnamon is bisexual (although the word is never used) and becomes involved in a fledgling polyamorous romance. The wanderer, Taiwo, is not male or female, but either both or neither. They, like Cinnamon, are bisexual, and various characters they encounter are also queer.
In a large part, Will Do Magic for Small Change is a story of identity and history, with Taiwo trying to form their own identity and recall their personal history. Meanwhile, Cinnamon is searching into her own family history, trying to uncover the truth of the event that led to her father's coma, and still in the process of self discovery. There's a sense of searching for a connection between an African American present and an African past.
For me, the characters are what I found most compelling about Will Do Magic for Small Change. I became strongly invested in Cinnamon's story, and I loved Kehinde, a fierce warrior woman who continues to move forward despite the tragedies in her past. Even characters such as Opal, Cinnamon's mother, who could have been little more than a two dimensional obstacle for Cinnamon to overcome ultimately proved to be more than that.
SPOILER. If I have one complaint, it lies with the ending. The book ends suddenly and abruptly, without any real conclusion or closure. I'm guessing that there's some thematic or literary purpose, but I read for entertainment and this didn't work for me. I'm willing to go with such experimentation in form, but I'm not willing to invest the time in a 400 page + book only for an ending reminiscent of "The Lady or the Tiger?" END SPOILER.
That being said, I'm still planning on reading more by Andrea Hairston. The level of quality and imagination she displays here is such that I'm not going to pass up the opportunity to read more. I believe there's another book about Cinnamon's grandparents, and I hope to get my hands on it soon.