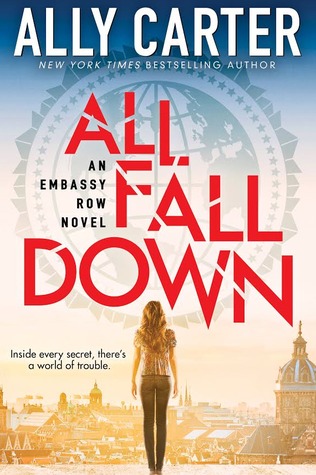 All Fall Down by Ally Carter. ★★★
All Fall Down is a contemporary YA novel that starts off Ally Carter's latest new series. Three years ago, Grace Blakely saw her mother murdered by a scarred man during a fire. But when she says so, no one believes her. Now she's staying at her mother's childhood home with her grandfather, an American ambassador to a fictional small European country. And then she sees him – the scarred man.
The most interesting thing about All Fall Down is the narrator herself Grace. She says that she saw her mother murdered, but did she really? There were points in the novel where I began to doubt her assertion that it wasn't all in her head, that it really happened. Yet despite this ambiguity in narration, I somehow never fully engaged with All Fall Down. I did end up finishing it, although I felt like I could have put it down midway through.
It could be that All Fall Down just isn't my genre. I tend to read heavily in the science fiction and fantasy genres, and it's a rare event that I pick up a contemporary YA novel (even if this one may be more suitably classified as a thriller). But I liked Ally Carter's Heist Society, and I read her Gallagher Girls series throughout middle school, so I decided to give this one a try. For whatever reason, All Fall Down didn't have the same appeal. Perhaps that's due to the book itself, or perhaps to my tastes as a reader having changed. It's hard to say.
Even as I'm fairly ambivalent about this book, the ending did produce enough of a twist that it's made me consider reading the sequel. In all likelihood I won't actually read the sequel, but if my mother or sister bring home a copy, who knows, I may end up changing my mind.