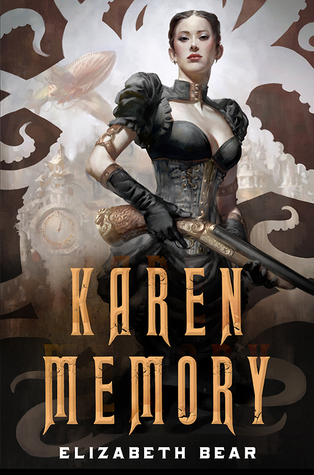 Karen Memory by Elizabeth Bear. ★★★
Told in the distinct voice of its narrator, Karen Memory is the story of young woman, Karen Memery, who works at a high end bordello in a steampunk version of the Pacific Northwest. One night two girls, one badly injured, show up on the doorsteps of Madame Damnable's house, seeking shelter. They're perused by a man with a machine that can control minds, and the trouble has only begun to start.
"So why a woman did the same should be judged different … well, women always is. Judged different, I mean."
The highlight of Karen Memory is how it focuses on the normally marginalized. The majority of our protagonists are women working at Madame Damnable's, and the cast is extremely diverse, on measures varying from gender, class, race and sexual orientation. Karen herself soon falls in love with Priya, one of the girls who wound up on Madame Damnable's doorstep.
For the most part, the steampunk elements of Karen Memory feel in the background. Karen's POV presents a very narrow sliver of this world, focused in on her area of a fictional city reminiscent of 19th century Seattle. I feel like it might appeal to fans of Cherie Priest.
But for what ever reason, I never connected with Karen Memory. I don't hate it, but I don't love it either. The entire time I was reading it I had the feeling that at any moment I would have no trouble putting the book down and walking away forever. While the story obviously has its heart in the right place, I never felt much of an emotional investment in the characters or plot. I would bet that there's other people out there would find Karen Memory a rollicking adventure, and I hope that anyone picking it up has better success than I did.