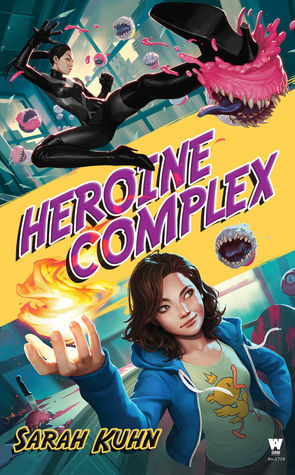 Heroine Complex by Sarah Kuhn. ★★★
Heroine Complex is light and fluffy, pretty much a beach read. It starts out with demonic influences taking the form of killer cupcakes – that should give you some idea of the book's tone. It's chick lit meets superheros.
Evie Tanaka and Annie Chang have been friends since elementary school. Then many years later a demonic portal opened up and suddenly native San Franciscans found themselves with strange powers. Now Annie Chang is Aveda Jupiter, San Francisco's resident superheroine, and Evie is her personal assistant, responsible for calming down temper tantrums and live streaming battles and managing Aveda's image. Evie's dealt with this for three years, but everything changes when she's forced to pose as Aveda.
Heroine Complex was a bit of a drag for me, but I could see other people liking it more. I generally like superheros but I'm not usually a reader the more chick lit, beach books. I probably would have helped if I'd found Heroine Complex funny, but it's brand of quirkiness didn't work for me. I also am not a romance reader and ended up skipping all the potentially steamy scenes. Basically, I think my limited enjoyment of Heroine Complex had more to do with my own tastes than any fault of the book.
I did like the friendship between Aveda and Evie. It would have been easy for Aveda to fall into stereotypes – bad boss, mean girl, bitchy best friend ect. Their relationship is by no means simple or easy, but it felt like one of the most honest things in the book.
The world building generally wasn't my thing – the explanations regarding the demon portals don't make a whole lot of sense – but I did like the intersection of superheroes and social media. Also I can completely believe that when there's a video of a woman fighting demons, the conversation would become about the fact that she has a zit.
While it might not have been my thing, I think other people could still like The Heroine Complex, particularly if they're looking for a beach read or interested in Asian-American superheroines.
I received an ARC from the publisher via Netgalley in exchange for an honest review.