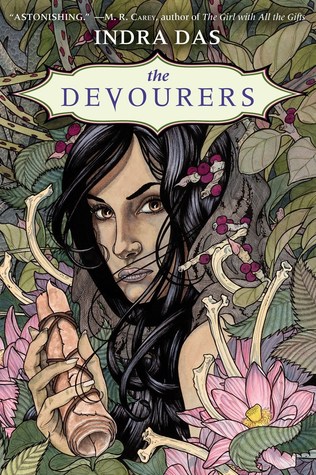 The Devourers by Indra Das. ★★★★
Trigger warning: rape
The task of reviewing The Devourers is daunting. It's a more literary novel than most of the SFF stories I review here, and it's a very complex novel. It's a story that deserves essays and thematic analysis more than a relatively brief, mostly spoiler-free review. The Devourers was not an easy book to read. There's violence and brutality, and a large part of the story revolves around rape. About a fourth of the way through I thought about quitting. However, I'm very glad I didn't.
In Kolkata, India the narrator, Alok, encounters a man who claims to be half-werewolf. Alok ends up agreeing to transcribe a series of texts for the mysterious stranger. From those texts come the story of man eating shapeshifters in seventeenth century Mughal India.
I considered quitting because the first of those texts is written by one of three shapeshifters from Europe traveling into India. This shapeshifter, Fenir, decides that he is tired of only destroying and wants to create. To do so, he rapes a human woman, all the while insisting that he's in love with her.
If the frame narrative hadn't immediately had Alok voice some of my own concerns, I might very well quit. As is, the novel went on to give a voice and story to the woman involved, Cyrah. And Cyrah became a character I absolutely love. Cyrah is both angry and brave, a woman who's willing to stand face to face with monsters and speak her mind.
The Devourers is a book about monsters. While there may not be all that many human eating demon creatures in this world, there's plenty who would voice some of the same attitudes as Fenir, who would insist on taking away the personhood of others. But the narrative never agrees with Fenir, and it never tries to victim blame Cyrah or deny in any way that what happened to her was rape. And it points out what a human action that was.
Gender and sexuality play a huge role in The Devourers. There's an intersection with race as well, especially given that Cyrah, a poor woman of Persian ancestry, is attacked by a shapeshifter wearing the form of a white man. But the questioning and exploration of gender and sexuality is everywhere in the narrative, from the shapeshifters bisexuality to Alok's growing interest in the mysterious stranger.
There's something to the darkness of The Devourers that I think might appeal to the fans of Neil Gaiman. It's a book that never avoids violence or brutality, but it also a very literary feel to it, with some elegant prose. Although it's unlike almost anything I've read before, I'm very glad that I chose to see The Devourers through to the end.
I received an ARC from the publisher via Netgalley in exchange for an honest review.