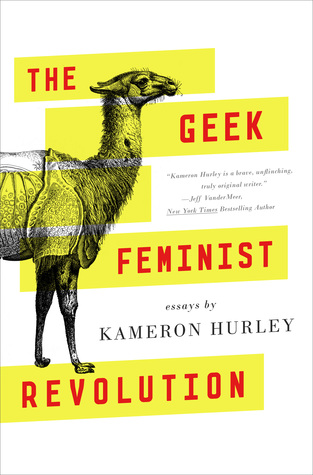 The Geek Feminist Revolution by Kameron Hurley. ★★★★
The Geek Feminist Revolution is a collection of essays by science fiction and fantasy author Kameron Hurley, who's written a continually growing number of novels (hint, readGod's War!) and the Hugo Award winning essay "We Have Always Fought." While the topic of the collection is nominally the intersection of feminism and SFF pop culture, the collection actually spans a broader array of subjects varying from analysis of media such as Mad Max: Fury Road, to what it takes to be a writer, and to elements of her personal life, such as her near death experience and living with a chronic disease.
Many of the essays are adapted blog posts. Since I occasionally read Hurley's blog, I was already familiar with some of the essays included in the collection, such as "On Internet 'Bravery'" and "Wives, Warlords, and Refugees: The People Economy of Mad Max". There were also some new pieces written specifically for the collection, although I couldn't always identify which these were. Was the Hugo Award mess a new essay? Going in, I was fairly certain going in that I would enjoy Hurley's collection. I've previously enjoyed her essays for her insights as well as the sense of focused anger that comes through almost everything she writes.
If you're interested in this collection but unsure if you want to commit, I'd suggest reading some of the essays which are posted online to get a feel. "We Have Always Fought" would be a good one to start with.