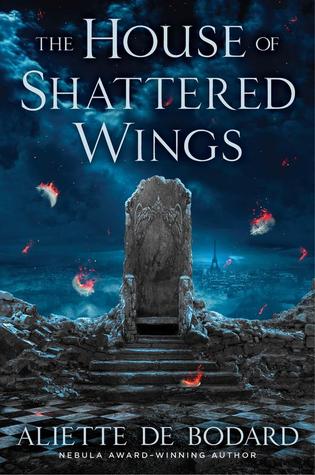 The House of Shattered Wings by Aliette de Bodard. ★★★1/2
While there were elements of The House of Shattered Wings that I enjoyed, it never fully worked for me. I never felt much of a connection to any of the characters, and the plot wasn't compelling enough to make up for that absence.
House Silverspires is on the decline. Like all of Europe's houses, it was brought to the brink of ruin by the war. Although it survived, it is now missing it's leader, the oldest fallen angel of all, Morningstar. Now, Silverspires is threatened by a dark and shadowy magic, and it's members are being killed, Fallen and mortal alike.
Selene, Morningstar's apprentice, is desperately trying to keep her house afloat. Philippe, a former Immortal from Vietnam, has become entangled by Silverspire and stuck in a land he never wanted to be in. Madeline is the House's alchemist, with a secret addiction to the ground up bones of former angels. These three make up the POV cast of The House of Shattered Wings.
Unfortunately, I never came to care about any of these characters, or even anyone among the supporting cast. I didn't hate any of our protagonists, but I remained indifferent to them. Even when a major character died, I was unmoved. I can't come up with an easy explanation for why this is. Based on the short descriptions I've given of them, they don't look uninteresting. Perhaps it's because only Selene has a clear and specific goal – preserve her house – and it's not a goal that's immediately easy to invest in. Or maybe having seen more of characters relationships with each other? Although there are relationships among the characters, it often feels like they're stated more than shown.
I did like the world building of Fallen among the magical ruins of a post-apocalyptic Paris. However, I would like to know more. The details revealed are really only the ones necessary for the story immediately at hand, but there's a sense of vastness to this world that I'd like to see explored. I'm also interested in the shape of the world after the destruction of the war. Why is travel so difficult exactly? What's the houses economic basis? I will consider reading further books in this setting, although I hope they improve upon where The House of Shattered Wings lacks.
I never found the pacing or plot line of The House of Shattered Wings gripping. The climax in particular felt unsatisfyingly sudden, although my inability to invest in the characters or situation may have played a role. Overall, it felt too slow to start and too quick to wrap up.
The imagination of the world that de Bodard has created is what bumps this from three stars to three and a half stars. Although I am unlikely to be recommending this one much in the future, I will investigate whatever de Bodard writes next.