I've twice before posted about upcoming books this year that I'm excited for, once back in March and once in December. The lists tend to shift as books get published and new books come on my radar. Oh, and I recognize that May is not usually considered "summer" but I'm from Texas. It's sure hot enough that it feels like summer.
Without farther adieu, here's some of the upcoming books I'm excited for:
May 17th – The Sudden Appearance of Hope by Claire North. I'm excited for this stand alone novel since I've enjoyed everything I've read before by Claire North (who also publishes as Kate Griffin and Catherine Webb). I rarely give out five star ratings, but Claire North's Touch won one from me last year. This book is supposed to be about a girl who becomes slowly forgotten by the rest of the world.
May 17th – Roses and Rot by Kat Howard. I had the privilege and pleasure of reviewing this one as an ARC! Thus I can certify that this is a book I would recommend. Roses and Rot a story of two sisters, interwoven with dark fairy tale elements. I can't say too much about the fantasy aspects without diving into spoilers, but it's been one of the best debut novels I've read.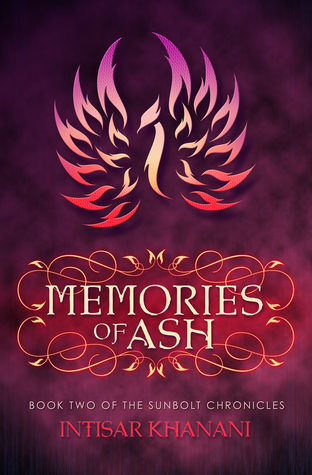 May 30th – Memories of Ash by Intisar Khanani. Is there finally a release date? It feels like I've been waiting for the sequel to Sunbolt for forever, but according to Goodreads it'll be published this May! And where Sunbolt was a novella it looks like this installment is a full length novel? Whatever length it is, I'll be reading it. Intisar Khanani is the best self published fantasy author I've ever come across, and her work delights.
June 2nd – Stiletto by Daniel O'Malley. I really loved The Rook when I read it three years ago. It's an imaginative, darkly funny urban fantasy novel with a female lead who's life doesn't center around romance. And to make it even better, she has important relationships with other female characters! What's not to like? Now imagine how excited I am for the sequel, Stiletto, being released four years after The Rook was first published.
June 21st – White Sand by Brandon Sanderson. You can take one look at my review index and tell I'm a fan of Brandon Sanderson. However, White Sand is going to be something new – it's a graphic novel based off one of his unpublished manuscripts. From the preview pages I've seen, the art looks good, and I can always count on Sanderson to give me a good story.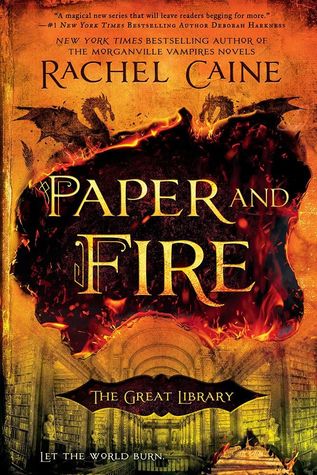 July 5th – Paper and Fire by Rachel Caine. Ink and Bone was one of the better YA fantasies I read last year. It was well written and had pretty original world building. Plus, the issues it's exploring with books and access to knowledge is a bit different than any other YA speculative series I'm aware of. Here's hoping that I enjoy Paper and Fire as much (if not more than) the first installment!
July 26th – Four Roads Cross by Max Gladstone. Max Gladstone's Craft Sequence is one of my absolute favorite fantasy series. The world building is some of the best I've ever seen, the characters are brilliant and super diverse, and the writing is knock your socks off good. So far all of the books have been independent stories set within the same, large world (say Full Fathom Five and Last First Snow). However, Four Roads Cross will be returning to Tara, the protagonist of the first book, Three Parts Dead. Will it still be a stand alone? Who knows. Will I be rereading and reviewing Three Parts Dead for the occasion? Definitely.
August 2nd – An Accident of Stars by Foz Meadows. I've never actually read any fiction by Foz Meadows, but I'm a big fan of her blog (I highly suggest her essay "PSA: Your Default Settings Are Not Apolitical"). So when I heard she had a queer feminist portal fantasy novel coming out, I figured I had to try it. While there's hardly any reviews yet, the blurb sounds awesome. And check out that cover art! I'm a sucker for pretty covers.
August 9th – The Guns of Empire by Django Wexler. While I haven't been happy with some world building and story choices this series has made (mainly in regards to race), it's one of the few well written fantasy series out there I've found with a lesbian lead. And there's so many other great female characters too! Although with everything that's been happening on TV this year, I'm now sort of paranoid. But, hey, Winter made the cover!
August 16th – The Obelisk Gate by N.K. Jemisin. The Fifth Season was one of the best books I read in 2015, so I'm anxiously awaiting its sequel, The Obelisk Gate. This is a story about a woman searching for her daughter in a land broken by constant apocalypses. Let's hope that The Obelisk Gate is as powerful as its predecessor.
For brevity's sake, I've capped this list at ten books. However, there's others coming out in the later half of August that I'm also interested in, and there's at least one release scheduled for August that doesn't have cover art yet. I'll be making a new post at the end of July or the beginning of August to cover those, plus some fall releases.