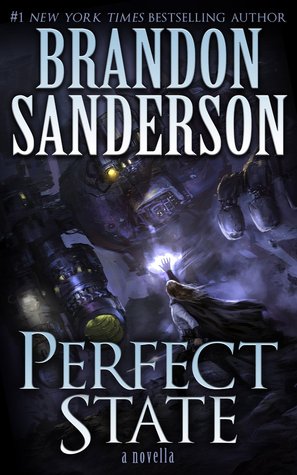 Perfect State by Brandon Sanderson. ★★1/2
I generally like Sanderson's work, but I was not enthralled by this novella. The concept behind the world was clever, but I found the protagonist annoying, which might have been inevitable due to the set up of the story. The plot was mostly lackluster, although there was one twist which was good. There was also one element of it that I had some trouble with.
I'm expanding on all of the above below the cut, however I am discussing things that might be considered spoilers.
The set up for Perfect State is that at some point in the future, most of humanity exists as brains in jars, living in a personal world crafted to them, where they are inevitably the most important person. For instance, the protagonist of Perfect State is the god-emperor of a medieval fantasy world. As you might be able to imagine, he's arrogant and annoying. It's hard for me to care about someone who's never had to struggle and who's biggest problem is boredom.
The mysterious group who runs the alternate realities require the protagonist, Kai, to reproduce. And they also require (for completely unexplained reasons) that this will involve him meeting a woman from another world and having sex with her instead of just splicing their DNA together and being done with it. My guess is that this was required for purely plot reasons, to get Kai to go from one world to another, but the horrific aspect of the all powerful organization requiring people to have sex was never acknowledged or examined.
I also really disliked the woman he winds up meeting. I was trying to figure out why when it dawns on me. She's a character type I've seen a billion times before. You know the story. There's a male protagonist who doesn't realize the flaws of the world he lives in but then meets a sexy woman who opens his eyes and gets him to rebel.
Yes, Perfect State has a twist at the end and an interesting idea behind it, but overall, it felt stale. I wouldn't recommend bothering with it.