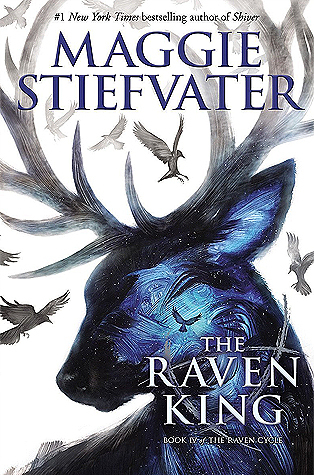 The Raven King by Maggie Stiefvater. ★★★★1/2
I was incredibly excited for the release of The Raven King, the fourth and last book in Maggie Stiefvater's The Raven Cycle (starts with The Raven Boys). I had so many questions for this book. Basically, I was hyped. While it may have been impossible for any book to live up to that level of excitement, I did find The Raven King to be overall satisfying. Also, I know that I'll be needing to reread it and the entire series at some point in the not too distant future. Aside from Discworld, this has been my favorite book series. And now it's finally over.
The strength of The Raven Cycle has always lain in its characters. The core cast of the series – Gansey, Adam, Ronan, and Blue – are complex and complicated, both apart and in their relationships to the others. While there are many secondary characters who play a role, it is these four who are the heart of the series. This series is focused on friendship more than anything else, and these characters love for each other (sometimes romantic and sometimes not) is the driving force of the novel.
So much happens in The Raven King, to the point where I'll definitely need to reread it to catch the full significance of everything. I don't know if the ending quite lived up to my expectations – I would have liked the movement from climax to epilogue to be less sudden, and I still have some questions about what happened at the very end (a reread may help with this). I will say that I thought Adam and Ronan's plot lines and character arcs were absolutely perfect. Blue's was all right, if not quite as wonderful. As for Gansey… there's really not a whole lot I can say without delving into spoilers, is there?
I can say without a doubt that The Raven Cycle has been the best YA fantasy series I have ever read. It's just so incredibly well written and crafted. I'm sad that it's over, but excited to see what Maggie Stiefvater goes on to create next.