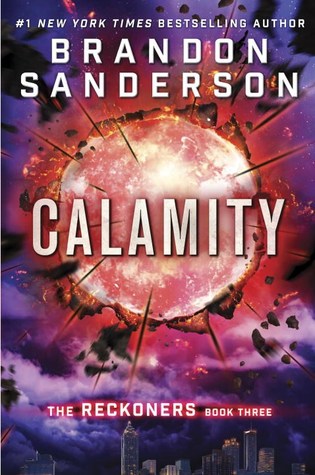 Calamity by Brandon Sanderson. ★★★★
Calamity is the final book in Sanderson's Reckoners series, a trilogy about a future were people with superpowers exist. The only catch? Along with superpowers comes a predisposition towards evil. It's a fun, action packed YA trilogy that I would recommend. However, you'll need to start with the first book, Steelheart, and read the series in order. Spoilers for Steelheart and Firefight follow under the cut.
After the events of Firefight, the Reckoners have serious problems. Prof's gone over to the dark side, Tia's nowhere to be found, and the rest of them are on the run. David's somehow become the leader (there's some interesting hints of why Abraham won't do it, but we never get the full story), and he's determined to save Prof from the darkness. Unfortunately, he doesn't have a clue as to what Prof's weakness is and Prof's smart, powerful, and knows how the Reckoners operate.
Calamity moves the action to a changed version of Atlanta, which is currently somewhere in Kansas. Apparently the city was changed into salt crystals which grow, dissolve, and reform, slowly moving the city across the continent. This highlights something I really love about this series – the sheer imagination and inventiveness when it comes to the Epics and all things related to them.
As usual with this series, the plot rockets along on high gear. There's plenty of action scenes mixed through with a bit of humor. The "David's bad at metaphors" joke, which I tend to find annoying, wasn't as bad in Calamity, possibly because it was used in slightly different ways.
I do think that this installment had less in the way of character development. The only people who got any where David, who suddenly had to step into a leadership role, and Prof, through the exploration of his weakness and thus his greatest fear.
However, I don't think I liked this installment as much as its predecessors. When I'm trying to figure out why, I keep turning to the ending. The majority of this book is focused around Prof, which doesn't leave a whole lot of time for dealing with the larger threat, Calamity. The way Calamity was handled fell somewhat flat for me.
Overall, I do think that Calamity is a fitting end to the Reckoners trilogy. This series has been a wild ride from start to finish, and it's one that I would definitely recommend.