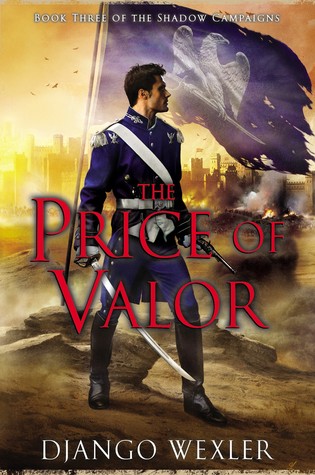 The Price of Valor by Django Wexler. ★★★★
The Price of Valor is the third book in the Shadow Campaigns series, which starts with The Thousand Names. You might be able to get away with skipping the first book, but you definitely need to have read the second. Spoilers for the first and second book will follow.
Vordan is at war, and the revolutionary spirit has lead to a bloodbath of executions on the streets of the capital. Three different countries have declared war upon Vordan, and Janus bet Vhalnich is the only hope of victory. Winter Ihernglass struggles with the difficulties of her new command. Meanwhile, Raesinia, the queen, is nearly powerless when it comes to the affairs of her country. She will have to rely on the help of Marcus D'Ivoire to free her city and nation from tyranny.
Where The Thousand Names was focused on military action and The Shadow Throne was focused on political intrigue, The Price of Valor combines them both into one book. Winter's chapters are filled with military life and the growing strain on her relationship with her lover Jane. Raesinia's and Marcus's chapters focus on the turmoil in the city and a plot to assassinate the queen.
As ever with this series, the female characters are fantastic. The woman's infantry battalion formed at the end of the last book places an important role in The Price of Valor. This is a series where the women actually do things, whether it be statecraft, soldiering, spying, or even more. There's definitely sexism in this world, but it's also filled with such capable and active female characters that it doesn't grate on me the way The Song of Ice and Fire sometimes does. I really love this series for its large variety of female characters including one's who aren't straight (I do still wish they weren't all white).
Like The Shadow Throne, The Price of Valor mainly alternates its POV between Marcus, Raesinia, and Winter. I like all the characters and none of them had sections that dragged. All of them, Winter and Marcus especially, grew through the novel. Winter's facing conflict between her love for Jane and her love of the army life. Marcus is starting to question his role and what he's fighting for while also becoming gradually more accepting of women in combat roles.
For the past two books, I've been saying that I've liked to see more of the magic system and the demons being bound inside people. The Price of Valor  was finally satisfying in this regard. You see much more of the Penitent Damned and their plans.
If you liked the last two books, you will in all probability like this one too. If you're interested in fantasy that riffs off the French Revolution or is very good about female characters, you should really check this series out.