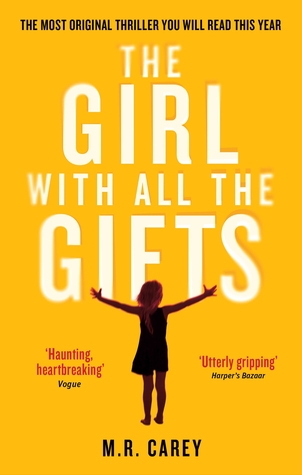 The Girl with All the Gifts by M.R. Carey. ★★★★
The Girl with All the Gifts is a post apocalyptic thriller centered around a girl named Melanie, who knows of the world only what she's taught in a schoolroom. Her existence is limited to the schoolroom, a cell, and a shower room. She's only taken out of her cell when she's firmly strapped to a wheelchair. When disaster strikes, Melanie will have to venture out into the wasteland beyond, along with four other travelers.
The Girl with All the Gifts switches between the perspectives of its five characters. Melanie is an incredibly bright young girl who turns over what she knows about the world in her mind. Miss Justineau is Melanie's beloved teacher. Sergeant Parks is in charge of the armed guards who strap Melanie down everyday, and Kieran Gallagher is one of his soldiers. Dr. Caldwell, a bitter scientist who will do anything to fulfill her goal. All of the characters were distinct, although Melanie and Helen Justineau were the most compelling. Dr. Caldwell was a bit of an evil scientist stereotype, and she never went much beyond that.
The heart and focus of the novel is the parent/child sort of relationship between Miss Justineau and Melanie. Melanie worships Miss Justineau, and Miss Justineau is determined to protect Melanie, despite the danger the girl poses.
At the school, Miss Justineau would tell the class stories from Greek mythology. The story of Pandora's box is one that reverberates throughout The Girl with All the Gifts. There might be terrible things out in the world, but there's hope too.
The Girl with All the Gifts is a creepy, fast paced thriller full of action with compelling characterization. I would highly recommend it.