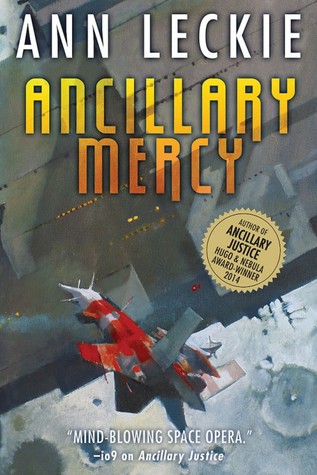 Ancillary Mercy by Ann Leckie. ★★★★
Ancillary Mercy is the final book in the trilogy that started with Ancillary Justice. You absolutely need to have read the previous two books, and this review will contain spoilers for those books.
As of the last book, Breq was trying to protect Atheok Station and its planet from the ongoing civil war. Ancillary Mercy continues the focus on Atheok Station. I liked how Leckie chose to scale down the huge universe of a space opera to focus on the local and individual stories.
"There are two parts to reacting aren't there? How you feel and what you do. And its the thing you do that is the important one."
I did think that the book felt a bit choppy at the beginning, with a ton of fragmentary sentences that kept distracting me. Either the book improved, or I got so involved in the story that I ceased to notice it.
The alien ambassador was one of my favorite characters in the book. In what could be an otherwise serious narrative, she added a lot of humor.
"Every ending is an arbitrary one. Every ending is, from another angle, not really an ending."
It's hard for me to find a lot to say about Ancillary Mercy. If you liked both of the previous books, I think you'll like this one too. I found it enjoyable and thought the final solution worked. This entire trilogy has been one of the better space operas I've come across, and I would certainly recommend it.