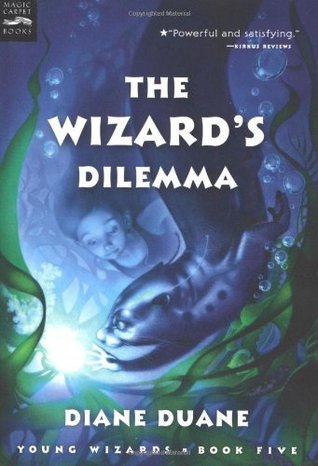 The Wizard's Dilemma by Diane Duane. ★★★★★
To what lengths would you go to save someone you love?
I cried while I read this book. Actually, just thinking about it brings tears to my eyes. The Wizard's Dilemma is a book with a lot of emotional difficulty to it, but that's part of what makes it so powerful.
The Wizard's Dilemma is the fifth installment in the Young Wizard's series, which starts with So You Want to Be a Wizard. I don't think you necessarily need to have read all four of the previous books to understand this one, but I think it will be more forceful if you are already attached to the characters.
"Trying to save a life is always worthwhile," said the Pig. "But the bigger work can be a lot easier sometimes."
Nita and Kit have the first big fight of their friendship. To make matters worse, Nita's mom is soon diagnosed with cancer. Some problems cannot always be solved with magic…
"And willpower may not be enough," Nita said softly. "Trying my best… still may not be enough." She swallowed hard. "Loving her… no matter how much… it doesn't matter. It still may not be enough."
As I said earlier, The Wizard's Dilemma is a very powerful and emotionally charged book, mainly due to the all to real situation Nita faces in regards to her mother. This is a book about things falling apart and not knowing if they can be put back together again.
The Wizard's Dilemma also included some firsts for the series. This is the first book where we get Kit's POV and his dog Pounch appears as a significant secondary character. Kit's and Pounch's explorations were a much needed lighter note to an otherwise very dark book. Kit's sister Carmela also made a brief first appearance, which I find exciting since she goes on to be one of my favorite secondary characters of the series.
However, the heart of the novel is Nita's fear and grief over the possibility of losing her mom.
"It's not fair," Nita said softly. "How come I only get to really know you now, when I'm going to lose you?"
"I don't know if you can ever lose me, honey. I'm your mother. There's a bond neither of us can break unless we want to. And it doesn't have to hurt."
So far in my reread, I find The Wizard's Dilemma to be the best book in the series. This series and book in particular has so much to recommend it – the intermingling of magic and science, a strong moral underpinning, and a truly emotional heart.