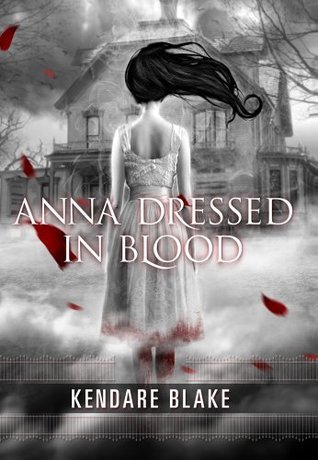 Anna Dressed in Blood by Kendare Blake. ★★★1/2
Anna Dressed in Blood is a YA paranormal horror book that reminds me of the episodes of Buffy the Vampire Slayer I've seen. Overall, it's a solid piece of fun.
Cas Lowood kills ghosts. He's traveled with his mother across the country, hunting down the haunting, monstrous spirits who kill the living humans around them with no self awareness. Then he finds a ghost called Anna Dressed in Blood, the spirit of a murdered girl who kills anyone who steps foot inside her old house. But Anna is different – she seems aware of what and where she is. And for some reason, she lets Cas live.
Looking at the synopsis for the book, I was worried that it would be a lot more romance focused than I like. As it turns out, while there is romance, there's plenty of other stuff going on, and I never felt like the romance subplot overwhelmed the book as is the case with a lot of other YA paranormals.
I was also worried going in that I would find the book too scary. Horror isn't really my genre, and I was hesitant to pick this up. Turns out that while there's some gruesome parts, I actually didn't find it that scary.
My favorite part of the story is Anna. She's deliciously creepy, and I loved finding out about her backstory. I am wondering why she didn't kill Cas, and I don't think it was ever explained within the book. Also, the police and other authorities seem oddly relaxed when Anna kills someone? You'd think there'd be some more repercussions.
The pacing was generally good, and the book went by pretty quickly. I was able to predict some plot points, but there were others that I didn't see coming.
I don't find Anna Dressed in Blood particularly special, but it was enjoyable throughout and avoided the pitfalls many other paranormal YA books fall into. I would definitely recommend it, and I am planning on reading the sequel.