Last month there were a few books I started but ultimately chose not to finish, for varying reasons. I would feel bad about doing "official" style reviews of these, but I decided I would say a little something about each one here.
The first was The Palace Job by Patrick Weeks, which I quit forty percent of the way through. This one was a big disappointment to me. I was so happy to find a fantasy heist style novel with a female protagonist, but ultimately it fell flat. I never felt connected to the characters, perhaps because there were just so many of them. I was also uncomfortable about how the unicorn had a creepy virgin fetish that was played like a comedy. The worldbuilding was sketchy at best. It felt like it had been outlined but not filled out, if that makes any sense.
The second book I quit was Servant of the Underworld by Aliette de Bodard, which I got two hundred pages into. Earlier this year I'd read her novella On a Red Station, Drifting  and really loved it, so I was looking for ward to reading a novel by her. Servant of the Underworld is a fantasy murder mystery set in the Aztec Empire. The historical setting was well done, but the focus felt completely on the mechanics of the plot. I never got a feel for who any of the characters were or grew attached to them. Maybe this was caused by lack of subplots? Anyway, I am glad I read some of this one, if just that it helped show me what I should be doing (or not) in my own writing.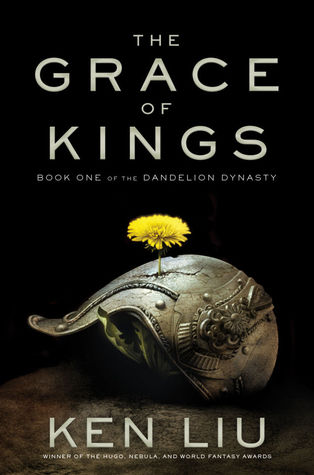 Finally, I quit The Grace of Kings by Ken Liu about twenty-five percent of the way in. The reasoning was entirely subjective, but one that I've seen other reviewers complain about – lack of female characters. The one female character who seemed like she was supposed to be a "major" character had very little to do that wasn't related to her marriage. Most of the other major (male) characters had hints about a great destiny, be it leading their people into battle or becoming king. She had a prophetic dream about who she'd marry. Apparently an eight foot tall man with no previous fighting experience killing 178 people by himself is believable, but giving women things to do isn't? I've heard people say it gets better after page four hundred, but honestly reading as far as I had felt like a chore.
Anyway, I'm currently reading Zero Sum Game by S.L. Huang, a book I'm planning to review for Aarti's More Diverse Universe blog event. I'd also bought Binti and Sorcerer to the Crown to read for the event, but then eReaderIQ sent me email alerts that the prices on Lagoon by Nnedi Okorafor andWild Seed by Octavia Butler had dropped to $1.99 for their kindle formats. Of course, I couldn't resist acquiring them. The price on Rose Daughter by Robin McKinley's also dropped, so I may be reading that soon after Diversiverse wraps up.