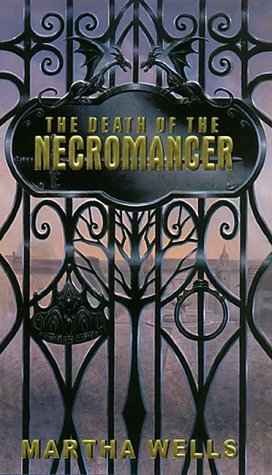 The Death of the Necromancer by Martha Wells. ★★★★1/2
While The Death of the Necromancer is set in the same world as a prior novel by Martha Wells, it stands alone and I had no problems reading it independently of the other book. I am so glad I did read this one – The Death of the Necromancer is a wonderfully evocative gaslight fantasy novel set in another world with a time period reminiscent of the late 1800s.
Nicholas Valiarde is a nobleman who by night will assume the disguise of a master thief. He's focused on vengeance for his late mentor, who was framed for the heinous crime of necromancy by the powerful Count Montesq. The book opens with Nicholas and his allies pulling off a heist, only to realize that someone has been there before them. Almost immediately they are catapulted into a mysterious situation involving dark magic and strange events, behind which lies an ancient evil.
Wells has an undoubted talent for world building. She brings the city and the kingdom of Ile-Rein to life. It's an immersive experience – you really feel like you are there, wandering the streets of the city or dark catacombs beneath. While none of the world elements are particularly new (read her The Cloud Roads for that), the atmosphere and setting is exquisitely crafted.
Most of the characters are remarkably vivid and interesting. It'd be so easy for Nicholas to become an over dramatized, aghasty Batman clone, but Wells instead has Nicholas experience actual growth over the course of the story. She also manages to give life to the supporting cast. There's Madeline, a brave young woman who has a natural talent for magic but gave it up in favor of being an actress; Reynard, a gentleman solider who's been in disgrace since his former lover killed himself; Arisilde, a gifted but drug addled sorcerer; and Crack and Cusard, who I regrettably kept getting confused. These are the initial cast members, but some more intriguing characters are added over the course of the story. If there's one thing I'd wish for, it'd be more female characters. Still, the book didn't do horribly in this regard.
The Death of the Necromancer is exceptionally well written. Wells gradually reveals more information about her characters, using tiny details to let the reader build a picture of them. The suspense is high, keeping this 500 page + novel gripping.
I would highly recommend The Death of the Necromancer for anyone looking for a well written fantasy story that channels the Victorian era and contains a great cast of characters.