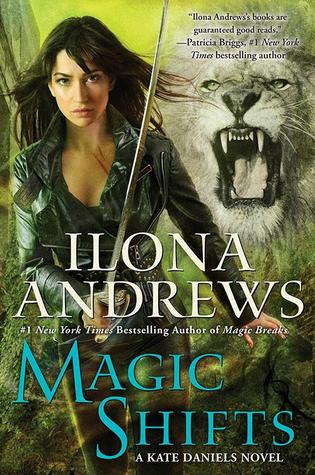 Magic Shifts by Ilona Andrews. ★★★★
Magic Shifts is the eighth book in the Kate Daniels series, so you definitely don't want to be starting with it! You need to have read at least some of the prior books, especially Magic Breaks. If you're interested in starting the series (a fun urban fantasy with great worldbuilding and a female lead), the first book is Magic Bites, although it's also the weakest. You may want to consider skipping it and picking up the second book, Magic Burns instead.
Also, I have to warn you that spoilers for earlier books, particularly Magic Breaks, are inevitable. Don't read any further in this review if you don't want to encounter them.
Kate and Curran are still adjusting to life outside the Pack when George, Mahon's daughter, comes to them, beseeching them to find her finance Eduardo, a werebuffalo working as a mercenary. They quickly find that Eduardo's disappearance seems to be related to a sudden influx of ghouls and other creatures steaming from Middle Eastern and Islamic mythology.
As always, this installment in the series is packed with action and fight scenes with various monsters. Despite this, I felt like it had a bit of a slow start, and I didn't get completely sucked in until the plot threads started coming together later on in the book.
This book is sort of in an awkward place in the series. A seven book long plot arc about Kate confronting her father has been completed, which leaves Magic Shifts to establish a new arc, which I thought it did very well. I'm already excited to see where it will go.
I really love how Kate's grown through this series. At the beginning, she was almost completely solitary, no friends, hardly any important relationships to other people. Now, by book eight, there's a whole host of people she cares about. She's taken on increasing responsibility for friends, family, and now the whole city while remaining the fun, snarky, badass action heroine I loved in the first place.
Also, the world building in this series is fantastic. The Gordens (Ilona and Andrew Gorden) do such an amazing job here. I love their vision of a future post-Apocalyptic/fantasy Atlanta and their amazing inventiveness when it comes to new takes on fantasy creatures. They are wonderful at how they incorporate mythology, and Magic Strikes is no exception.
So in summary, Magic Strikes is another fun, hilarious, and action packed addition to the Kate Daniels series.